South African Airways receives 4-Star Skytrax Ranking for 12th Year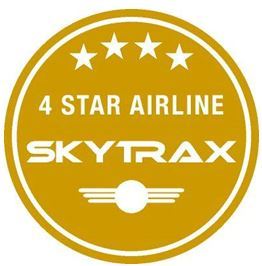 Johannesburg, South Africa –South African Airways (SAA), the leading airline on the African continent, has been awarded the 4-Star Airline ranking for 2014 by Skytrax, the independent, global airline rating organisation, for the 12th year in a row.
Skytrax is the leading, independent authority on airline quality and assessment, and completed quality audit checks with SAA examining in detail all product and service delivery areas across both international and domestic routes. The Skytrax Star ranking audit examines more than 800 areas of product and service delivery, across both airport operations and the cabin experience.
With decades of experience under its belt, SAA is known for providing on-time and comfortable domestic flights to and from Cape Town, Johannesburg and other business hubs in the country. The airline is also a preferred choice for international flights including direct flights to New York, Washington and other popular tourist destinations. Providing Excellent Customer Service is one of five strategic objectives of SAA's Long-Term Turnaround Strategy, named Gaining Altitude. Thanks to this dedication to excellence SAA remains the only carrier on the African continent to achieve this high level 4-Star Airline rating.
SAA's 4-Star ranking signifies that the airline has achieved a good standard of product across all travel categories, with standards of staff service delivery in both the on-board and airport environments also being well ranked.
"SAA staff members are dedicated to providing our customers with the best service possible. We have worked hard to ensure this ranking and will implement further improvements. Our position as the leading carrier on the continent is confirmed by the fact that we are still the only carrier on the African continent to have achieved the high level 4-Star Airline rating," says Monwabisi Kalawe, SAA Group CEO.
Edward Plaisted, CEO of Skytrax said: "SAA has both maintained and improved quality levels throughout the past year, and continue to delivering world-class product and service standard to their customers, making their 4-Star ranking well-deserved."
"This 4-Star ranking demonstrates that South African Airways passengers can look forward to a high quality of product and service. The Skytrax ranking provides an accurate and independent guide for travellers around the world, and the 4-Star Airline status is a most respected category. SAA has been ranked a 4-Star Airline for a number of years, and we are delighted to see them retain this status for 2014."
Clients can book international and domestic flights at flysaa.com
. The online booking system is an extension of their award winning client service which is fast, efficient and reliable.
About South African Airways
South African Airways (SAA)
is a Star Alliance member which offers more than 21,900 daily flights to 1,328 airports in 195 countries.
The airlines core business is the provision of passenger airline and cargo transport services together with related services, which are provided through SAA and its four wholly owned subsidiaries: SAA Technical; Mango its low cost carrier; Air Chefs, the catering entity of SAA and South African Travel Centre (SATC).
The airline operates to 42 destinations worldwide with
its domestic market operating 660 flights in total per week
between Johannesburg – Cape Town, Durban, East London and Port Elizabeth, from its Johannesburg hub, as well as code-shared flights between Lanseria – Cape Town and Durban. Regionally, SAA offers 26 destinations across the African continent. Its international network creates links to all major continents from South Africa through 11 direct routes and code shares, with daily international flights from the city of Johannesburg.
Email South African Airways