Seven Selected as New Authorized Duct Tape Marketing Consultants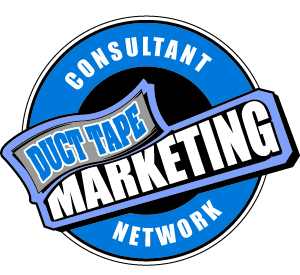 Duct Tape Marketing Coach, LLC announces the selection of seven new
Authorized Duct Tape Marketing Consultants
, bringing the total to 71. The Duct Tape Marketing Authorized Consultant program allows business owners to create and build a marketing consulting/coaching business using the
Duct Tape Marketing System
.
New Authorized Duct Tape Marketing Consultants are:
The Duct Tape Marketing System has grown exponentially worldwide due to its unique proven marketing system for small to mid-size businesses complimented with a high caliber marketing professional to help the owner with creation and implementation. Founder and author,
John Jantsch
, is well known for his ability to identify and implement new and upcoming techniques that allows the marketing system and consultants to stay on top of what is practical, affordable and effective in small business marketing.
Authorized Duct Tape Marketing Consultants receive 30 days of on-boarding training, 3-1/2 day intensive workshop, scheduled ongoing training with the entire network and 20 weeks of 1-on-1 mentoring with a successful Duct Tape Marketing Consultant.
About Duct Tape Marketing Coach, LLC
Duct Tape Marketing Coach, LLC is an international organization of independent marketing consultants and digital agencies that utilize Duct Tape Marketing products and programs to help small business owners develop and follow a systematic approach to marketing producing predictable and consistent results. The managing partners of Duct Tape Marketing Coach, LLC are John Jantsch, Joe Costantino and Patrick Giammarco. For additional information, visit
www.ducttapemarketingconsultant.com
or call 866-382-8273.
Email Duct Tape Marketing Coach