Sage Pastel My Payroll Online develops Online Payroll Software Solution for SARS Employment Tax Incentive Claims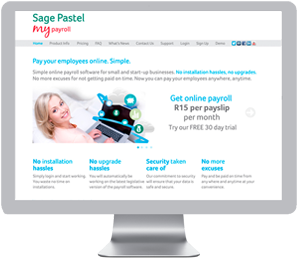 Johannesburg, South Africa – Payroll and human resources software specialist Sage Pastel Payroll & HR has an online payroll solution offering businesses efficient, simple and cost-effective payroll administration and identification of employees who qualify for the SARS ETI (employment tax incentive) introduced by Minister of Finance, Pravin Gordhan.
The online payroll software assists employers to identify employees who qualify for the incentive, calculates the incentive and enables simple submission of monthly EMP201 returns and EMP501 certificates.
Sage Pastel My Payroll Online business manager, Karen Schmikl, says the software calculates and delivers UIF, SDL, PAYE Reconciliation and tax certificates.
"This eases the burden on employers while at the same time encouraging the employment of young people in the 18-29 years age group. It makes good business sense to automate online as all calculations are made automatically to ensure that companies operate within the legal boundaries."
Schmikl adds that online updates via software as a service (SaaS) ensure the software is always up to date and a pay per use option makes good business sense for small companies at a cost of R18 excluding VAT per payslip. The solution also offers leave tracking functionality.
"Our focus is on providing payroll software solutions that are appealing and intuitive to use, giving users peace of mind that their data is safe and secure, providing greater control to ensure success and growth while also enabling the business to work smartly and efficiently with simple, quick access to support from knowledgeable, well-trained people."
Schmikl says simplicity and ease of use were key objectives in the software design. It is jargon-free and all that is needed to be able to make use of the software is an internet connection. As a cloud-based application, implementation of the software is simple as all fields and parameters are pre-defined for loading and immediate use. Lists of earnings, deductions and fringe benefits are linked to the correct IRP5 codes and payslip template selections enable unnecessary definitions to be excluded.
"One of the benefits of SaaS applications is that customers no longer need to visit a website to download and install software updates manually or install CD versions. They will always process their payroll on the latest software and legislative version."
Companies' payroll data is backed up daily and with the roll-over to each new payroll period. Backups are stored at alternative locations, ensuring that data can be restored at any given time. Employee history information is available for the current year and the previous five years. All payslips issued during that period are retained.
Leave types are pre-defined covering annual, sick, family responsibility and maternity leave. Companies can simply capture start and end dates and can attach documents such as sick notes and leave application forms. Leave reports enable management to analyse leave patterns and leave allocations for traditional holiday periods and annual shut-down periods.
The online payroll solution enables uploading of employees' personal details, photographs, contact numbers and addresses; managing of pension or provident fund and medical aid contributions.
The Basic Conditions of Employment Act (BCEA) requires that all companies, no matter how small, must provide all employees with a formal payslip. Users can print their payslips, IRP5s and IT3(a) tax certificates or export them to Microsoft products. The payslip provides a one-screen summary of every employee's financials (month-by-month and year-to-date), making reconciliations easy for the accounts department.
Pre-defined company, employee, financial reports, EMP201 monthly SARS declarations, PAYE Reconciliation, UIF and SDL levies are recorded and retained within the software, eliminating the need for manual completion and submission of the UI 19 form, which can be transmitted electronically.
"The pay-as-you-go model is cost-effective at R18 excluding VAT per payslip. Business owners can pay their employees anywhere, any time."
For companies that are interested: Companies can make use of our free 30-day trial period package by clicking
here
, or sign up directly, by clicking
here
.
About
Sage Pastel Payroll offer user-friendly,
easy-to-use Payroll and HR software
that caters for those businesses just starting out as well existing businesses and aims to support the growth of the company and develop partnerships with clients. Sage Pastel Payroll & HR is committed to providing a comprehensive payroll solution and provides unrivalled support and online payroll tools. For further information please visit,
www.pastelpayroll.co.za
.