Joyce Koons Honda Donates To Journey for a Cure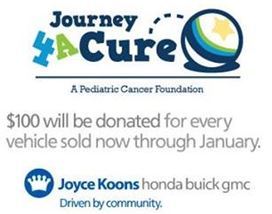 Manassas, VA - Your
Manassas Honda dealer
, Joyce Koons, donated money for each car sold to national organization Journey for a Cure. This non-profit uses the funds to support the cure of childhood cancer.
There are approximately 12,500 children diagnosed every year with cancer; however, these patients see the fewest donations. While the American Cancer Society helps adults, less than a penny per dollar goes to pediatric care. Journey for a Cure picks up this difference, because no child should have to suffer. For children under the age of 20, cancer is the number one killer. Your local Fairfax Honda dealer is working with Journey for a Cure to help make these statistics change.
Joyce Koons Honda has contributed to a number of charities, over the past decade, including SPARK Education Foundation for Prince William County Education and KEEN Greater DC for children with disabilities. The family believes in helping the community through both charity and education. Honda of Manassas says, "This is an exciting collaboration for us. We have always held ourselves to the highest of standards, which includes forming relationships with charities. We hope any contribution will help these children and their families find relief and a cure."
If you are in the market for a new or used Honda, now is the time to buy. Not only did prices lower with the new year's models, but throughout the year part of your purchase goes to incredible charities, as well. If you have any questions regarding the charity, you can ask your used Honda Washington D.C. dealer. You may also contact Journey for a Cure directly, if you would like to make your own donation.
About Joyce Koons Honda: Joyce Koons Honda was founded by husband and wife team Joyce and John in 1954. It is one of the premier dealers in the Fairfax area. A family business, their daughter now owns Joyce Koons Honda and continues to run it with the community in mind. They strive for the highest quality of customer service, as well to guarantee your satisfaction. For more detail please visit,
http://www.joycekoonshonda.com/.