YoungJets Awarded Air Charter Company of the Year By Tour Link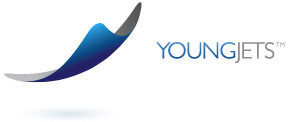 World's Most Revered Concert and Entertainment Touring Professionals Choose YoungJets at Top Dog Awards
LOS ANGELES, CA (February 12, 2014)
– YoungJets was awarded the highly coveted Air Charter Company of the Year Award by the world's top entertainment and concert touring professionals at Tour Link's Annual Top Dog Awards on Saturday, February 8. Defeating a multitude of charter companies worldwide that compete in the industry, YoungJets shared the awards podium with the legends of entertainment touring including the professionals behind the tours of U2, the Rolling Stones, Pink Floyd and many more.
"The private jet charter world is a crowded space with an increasing number of jet brokers and operators vying for entertainment-related jet business every year," said David Young, Founder and Chief Executive Officer of YoungJets. "I am thrilled that YoungJets' focus on service, coupled with our penchant for problem solving and anticipating our clients' unique needs has resonated so quickly with the touring community. Having a background in music management and touring has been instrumental in appreciating the demands of this industry from many angles," Mr. Young added. "It has long been my goal to build a jet services company that is as indispensable as the lighting director, the sound man, or any other essential member of the touring crew."
The Tour Link Top Dog Awards are bestowed upon the very best of the best in the touring community as voted by their peers. The Awards are presented annually at the Tour Link conference, a three-day summit of the world's top concert touring professionals in disciplines that range from transportation and hospitality industry providers to tour managers to tour technicians. The 2014 Tour Link Conference was held in Scottsdale, Arizona February 6 to 8.
Said Larry Smith, Founder of Tour Link: "David Young and his team at YoungJets continue to deliver client service at the highest level as proven by their Top Dog Award for Air Charter Company of the Year, an annual award voted on by the Concert Touring Industry worldwide."
YoungJets took flight in March of 2012 and quickly became a leader in the private jet charter industry. With an extensive worldwide network of the world's finest, safest private charter aircraft in every size class and a 24/7 staff of logistics experts, YoungJets provides hands-on coverage of jet charter needs for a wide swath of missions spanning from one-way charter to complex world tours. Founded by David Young, a 20-year veteran of the private aviation and VIP-services industry and one of the world's leading experts in jet charter, YoungJets is behind many of the most notable tours of the day including the historic Rihanna 777 tour, which traveled the iconic star to 7 countries in 7 days on a Boeing 777.
YoungJets is a proud Wyvern Broker, the most trusted name in private aviation safety auditing. Staffed with seasoned charter logistics experts, YoungJets oversees a wide variety of private jet and VIP-travel services including one-way travel, financial road shows, world tours, leisure travel, incentive group travel, sports team travel, helicopter charters, VIP concierge handling and security coordination, ground transportation and yacht charter.
ABOUT TOUR LINK:
Tour Link is a three-day conference of networking with professionals in concert touring and related industries. Tour Link is presented annually by Tour Guide Publications, creators of Mobile Production Pro, Mobile Production Monthly and the Road Book.
ABOUT YOUNGJETS:
YoungJets is a leader in the private jet charter industry with an extensive network of the world's finest, safest private charter aircraft in every size class and a 24/7 staff of logistics experts. The YoungJets team has decades of experience overseeing the travel needs of many of the world's most discerning and high-profile clients. For more information, or to book with YoungJets, please visit
www.youngjets.com
, or call 877-275-9336.