Lloyd Industries - Appropriate Maintenance of the Fire Smoke Dampers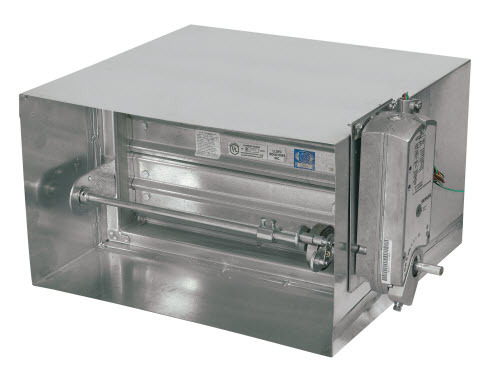 During the journey of more than 30 years, Lloyd Industries has kept in mind the requirements of its diverse client base and have designed products that are designed to provide maximum safety to the consumers. Preventing fire from spreading is really a tough job. So it is wise to know certain safety measures and precautions beforehand to tackle any emergency situation.
There are many reasons that can cause fire resulting to loss of human lives and property..
Fire smoke dampers and other fire protection systems have been designed to encounter the situation when there is a certain rise in temperature. These fire smoke dampers are often very much useful in stopping the spread of fire. It is often used to prevent the transmission of fire where the air ducts help in penetrating the flame barriers.
Uses of Fire Smoke Dampers
The Fire smoke dampers are much needed to be installed especially in the air transfer openings and ducts so that this can resist the flow of smoke and air. They are often used in the air conditioning ductwork or ventilations. It acts like a curtain and immediately shuts down when the fusible links start to melt. Whenever there will be a certain rise in temperature, the fire smoke damper will shut down instantly and thus prevent the fire from further spreading.
Safety and Maintenance
When you install the fire smoke damper, you must go through proper testing and safety measures. It will be a great thinking if you perform an operational testing, so that you can verify whether the fire damper is performing properly or not. You must also check whether all the devices are properly placed or not. This testing is really very important and will provide you with proper idea regarding the installation of the fire smoke dampers. If you install more than one damper then you must test each one separately. You must inspect it regularly at least twice in a year. Maintenance also depends on where a fire some damper is installed. For example, if it is being installed in a hospital, then it must be tested regularly.
When you are inspecting the
fire smoke dampers
, it is really very important that you must remember certain things. You must go through every component of the damper so that you can easily overcome its physical damages. The defective and the missing parts must be changed and replaced. Cleaning the parts and then lubricating it is highly advisable. Lubrication will make the parts work smoother. Remove the fusible link before testing. In case the fusible link gets damaged, you must need to replace the fusible link with a similar one. You have to look carefully in case there is any sign of rust. You must even replace the faulty blades and frames too.
If you really want to gather more information regarding the maintenance of the fire smoke dampers then you must go through
http://firedamper.com
.
Email Lloyd Industries Inc