Foam Factory Acquires New Automated CNC Horizontal Cutter Machine for Precision-Cut Custom Foam Products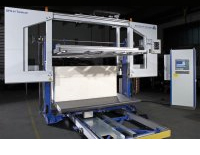 Clinton Township, MI -
Foam Factory
, a leading manufacturer of custom foam products, announced today that it has acquired a new computer numerical control (CNC) foam cutter, helping them create precise, custom foam products with greater speed and accuracy than ever. This programmable, automated saw is able to process a wide range of flexible polyurethane open-cell foam with exceptional accuracy.
A CNC horizontal cutter allows Foam Factory to slice foam into workable sheets that can then be transformed into mattresses, cushions, acoustic foam, or even sold-as is. The CNC horizontal cutter is capable of cutting conventional and rebond foam into sheets as thin as 1/8 of an inch, and memory foam can be sliced as thinly as 1/4 of an inch. As powerful as it is precise, the blades are capable of cutting foam in densities up to seven pounds; a style commonly used for carpet padding.
Using computer programming to map out the desired cuts, these machines produce straight lines and clean angles that would be impossible to create by hand in the same timeframe. Manual cutters require workers to set the blade in the correct position, while constantly monitoring sheet thickness. With computer programming, the machine can be given a set of measurements and trusted to produce precise cuts while employees tend to other tasks.
For many of Foam Factory's products, the horizontal CNC cutter is the first step in their creation. When foam arrives in large bulk forms called buns, it needs to be cut down into more manageable sheets. This is where the CNC horizontal saw comes in. Whether it's a mattress, acoustical foam, new cushions, or a body wedge, chances are good that your high-quality foam product was formed in part by the CNC horizontal cutter.
About Foam Factory, Inc.:
The Foam Factory website, FoamByMail.com, carries a large selection of foam and foam products for a wide range of applications, all at very competitive prices. We proudly offer traditional foam products, like bedding, insulation, cushions, packaging materials, and comfort items. Additionally, we are constantly expanding the practical applications of foam, offering products like economical and practical child safety items, commercial items like jewelry display holders, and a large selection of acoustical sound-deadening materials. To order precision-cut, custom-made foam products, visit
www.foambymail.com
.