Always Best Care Expands with 8th Senior Care Franchise in North Carolina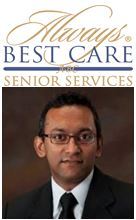 Roseville, CA
- Always Best Care Senior Services, one of the leading Senior Care franchise systems in the United States, today announced the company has awarded its 8th franchise in North Carolina and as a result now provides services through offices in Charlotte, Raleigh (2), Wake Forest, Chapel Hill, Burlington, Greensboro and Asheville.
Always Best Care is one of the nation's leading providers of non-medical in-home care, assisted living placement services and skilled home health care. The company delivers its services through an international network of nearly 190 independently owned and operated franchise territories.
The new Always Best Care franchise is owned and operated by Sanjay Das of Raleigh, an experienced business executive with more than 20 years' experience in IT software development, implementation and program management across clinical research, finance, large pharmaceutical and retail industries. Mr. Das was introduced to Always Best Care by Daniel Prendergast, a franchise consultant with The Entrepreneur's Choice organization.
"I am very excited about awarding our newest franchise to a man with such impressive business credentials as Sanjay Das," said Michael Newman, founder and Chief Executive Officer of Roseville, CA-based Always Best Care. "I'm confident he will become a successful member of the Always Best Care team."
Mr. Das had personal experiences that led him to select business ownership with Always Best Care. "Knowing we wouldn't be able to take care of our families as they aged thousands of miles away, I hired someone eight years ago to care for our closest senior family members," he explained. "My grandmother, who raised me, has transitioned from independent living, to companion care, to now being completely dependent on 24/7 personal in-home care."
Always Best Care provides critical services that fulfill the needs of elders as they transition through various stages of their lives. "Always Best Care's standards and services are congruent with what I believe in and what I stand for," added Mr. Das. "The caring support that I have received from everyone has been absolutely phenomenal, and continues to amaze me. It gives me the confidence that I've made the right choice."
Mr. Das believes in reaching out and connecting with the communities he serves. "I intend to be there for everyone in our communities," he said, "either by supporting local businesses or being involved in community programs." His philosophy extends to employees, too, as he knows it is critical to ensure that caregivers stay engaged, happy and feel supported, "since only then will they freely provide the level and quality of care that our seniors really need.
"My mission, he concluded, "is to create certainty and hope in the lives of seniors and their families."
Always Best Care of Northeast Raleigh is located at 3112 Twin Leaf Drive, Raleigh, NC 27613, and may be reached by calling (919) 724-4297 or Visit them on the web at
http://www.abc-neraleigh.com/.
For information on Always Best Care franchise opportunities, call toll-free 1-855-430-CARE (2273) or visit
http://www.franchisewithalwaysbestcare.com
.