Vertical Incline Conveyor Offered by Dynamic Conveyor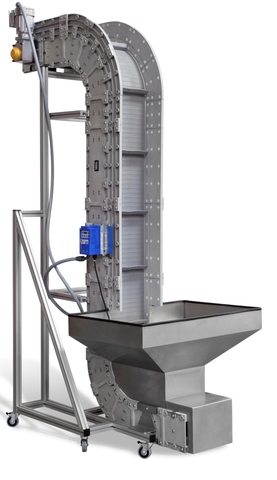 With the increasing demand for more sustainable material handling solutions, Dynamic Conveyor is introducing a
vertical incline conveyor
for small plastic parts conveying. The DynaCon
conveyor
saves floor space when there is a need to get plastic parts to a higher elevation.
"The DynaCon vertical incline is an ideal solution for crowded injection molding facilities, growing operations or new facilities looking to save space," states Paul Kuharevicz, Engineering Manager for Dynamic Conveyor. "The DynaCon 90 degree incline configuration is just one of many configurations made possible with the
modular conveyor
line manufactured by Dynamic Conveyor". Dynamic Conveyor is known for offering products that can be re-used by being reconfigured when needs change, offering the most sustainable conveying solutions.
The DynaCon vertical incline conveyor is custom designed to your desired height and includes widths ranging from 4" to 60". The conveyor can include an optional hopper designed to meet desired parts conveying needs. Optional casters are available to make the system easy to move in and away from other equipment.
"The DynaCon vertical incline conveyor is a great addition to the modular conveyor products offered by Dynamic Conveyor," states Kuharevicz. "Customers looking to purchase equipment that offers a sustainable material handling solution that offers a low cost of ownership need look no further than Dynamic Conveyor."
Dynamic Conveyor - based in Muskegon, MI - is the only conveyor manufacturer offering multiple conveyor lines and products that can be configured and later reconfigured like Lego® building blocks. Dynamic Conveyor products are used in a wide variety of manufacturing industries for conveying small to medium parts and products. The company has been providing innovative conveying solutions for more than 25 years.
To view a video of the new DynaCon 90 degree vertical incline or to learn how easy it is to configure and reconfigure DynaCon
conveyor
systems, call 1-800-640-6850, visit
www.dynamicconveyor.com
or e-mail
sales@dynamicconveyor.com
.