DelSuites Opens New Property in North York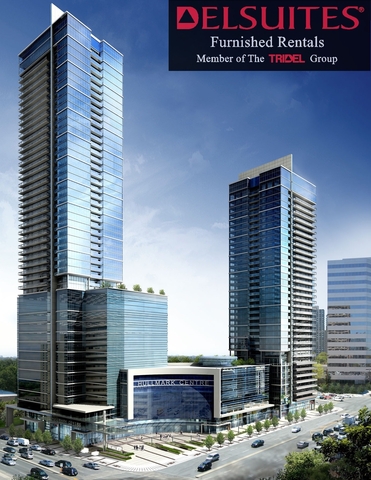 TORONTO, Ont. – DelSuites has added a new property to their list of short term apartment rentals. The Hullmark Centre at 2 Anndale Drive is situated in the heart of North York and offers the benefits of city living in a quiet suburban setting.
"We have more than 300 suites in Toronto and the Greater Toronto Area, and the Delsuites Hullmark Centre is a wonderful addition to one of the most sought-after neighbourhoods in North York," says Dan Henderson, General Manager of DelSuites. "We'll continue to work with our parent company, Tridel, to expand our business in key areas which will provide more options to new and loyal guests."
Offering 24-hour security along with a building surveillance system, Hullmark features in-suite security – an added safety benefit for guests. This 49-story Tridel built condominium also offers underground parking, direct indoor access to the Yonge-University subway line as well as a Whole Foods Market, making it convenient and accessible for every guest. Featuring a neutral-toned colour palate with contemporary artwork, each suite provides a luxurious yet comfortable atmosphere for single business travelers, couples and families alike.
"Every aspect of the DelSuites experience is designed with today's traveler in mind," explains Cliff Norton, Director of Sales at DelSuites. "Our business and leisure guests demand a home away from home that caters seamlessly to their 24/7 lifestyles, and we look forward to showing our clients the hospitality and service for which DelSuites is known for."
The one and two-bedroom suites feature fully furnished living areas, in-suite washer and dryers and complimentary housekeeping services. Additional building features include an outdoor rooftop pool with sun terrace, whirlpool and fitness centre.
About Delsuites
For more than 15 years, DelSuites has been the trusted name in corporate housing and has developed a reputation for quality accommodations in prime locations. Exclusively offering Tridel brand condominiums to their clients, DelSuites has become one of the largest firms of their kind in the GTA. For the fifth consecutive year, DelSuites is the proud recipient of the Consumers' Choice Award (CCA) for the Greater Toronto Area in the category of Executive Apartment Rental.
DelSuites gains strength and experience from our affiliate companies and their expertise in construction technology, residential property management, real estate brokerage and residential energy management. Companies including but not limited to are Tridel (Construction & Real Estate Development), Del Property Management (Building Management), Del Reality (Brokerage), Delmanor (Senior Retirement living), Del Condominium Rentals (Unfurnished Rentals) and Provident (Energy Management).
For more information about DelSuites please visit
www.delsuites.com
.
Suelyn Bloye
Telephone: 416.296.8838 Ext. 2250
Email:
sbloye@delsuites.com