Ylang Ylang Resort's Valentine's Day Celebration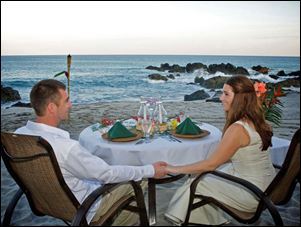 Montezuma, Costa Rica -
Ylang Ylang Beach Resort's
special Valentine's Day dinner was a huge success. It was a warm affair as lovers and families joined in to celebrate "love day." The guests celebrated with great food, live entertainment and, most importantly, with the ones they love. It was truly a magical evening full of romance and fun at the Ylang Ylang Beach Resort.
Ylang Ylang served up traditional Costa Rican cuisine in a scrumptious all-you-can-eat, gourmet buffet. The guests indulged in a night full of entertainment and fun, starting out with an over-the-top beach bonfire. This was followed by an orchestra performance by the extremely talented local youth of Montezuma. The evening really got started in the beautiful tropical gardens of the beach resort, as the guests enjoyed a one-of-a-kind performance by the Metamorphosis Ballet, featuring Marlowe Basset and Yaan Gulledge, making it a memorable evening for everyone.
Nestled in the heart of Costa Rica, Montezuma Beach is the ultimate tropical destination. Its breathtaking beauty attracts people from all over the world. Lose your senses within the mystical oasis of Montezuma Beach. Join Ylang Ylang Beach Resort for a day of relaxation in their lush spa or for an exciting day of activity with the family. Offering suites which open up to a breathless view each morning, the Ylang Ylang Beach Resort has a stunning beachfront, which includes hammocks, a pool and much more.
Montezuma's Ylang Ylang Beach Resort offers the most fascinating leisure and adventurous activities. Visit:
http://www.ylangylangbeachresort.com/
for more information about our rates and offers. Or call toll free: 1-888-795-8494. Ask about their vacation packages, today!
About: The Ylang Ylang beach resort is your ultimate vacation destination. Situated in the beautiful Southeastern region of Costa Rica, on Montezuma Beach, the resort lures in tourists, honeymooners and families from all over the world. Ylang Ylang Beach Resort complements its natural surroundings with a warm, tropical atmosphere, allowing you to feel free and one with nature.
Email Ylang Ylang Beach Resort