Anton Bilchik M.D. and California Oncology Research Institute Announce Outreach Recognition for Ruth Weil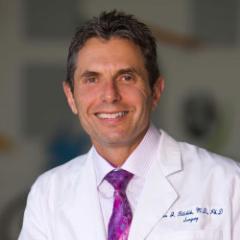 Santa Monica, CA – California Oncology Research Institute (CORI), founded by the noted surgical oncologist, Dr. Anton Bilchik, today announced that one of its prominent board members, CFO Ruth Weil, has been recognized for her efforts in the fight against cancer. Weil has been engaged in the battle against cancer for as long as she can remember and has a passion to eradicate this terrible disease.
"As a board member and CFO of CORI, Ruth has dedicated much of her personal time and financial resources to the diagnosis, research and treatment of cancer," said Dr. Anton Bilchik, director of the California Oncology Research Institute. "We are extremely proud and honored by all of the recognitions Ruth has received in her committment to this cause. She is truly a leader in the fight again cancer, and her efforts have undoubtedly saved lives."
In addition to her collaboration with CORI, Ruth Weil established the Martin H. Weil fund, which supports the Ruth and Martin H. Weil Laboratory for Cancer Research at the John Wayne Cancer Institute and helps sponsor the Surgical Oncology Fellowship. She volunteers every week at the Institute's Cancer Clinic at Saint John's Health Center, where she has volunteered for an amazing 20 years. Patients know that Ruth is always ready to lend an ear or hold a hand when things get tough.
Ruth's generosity and spirit have been recognized with many honors, including the John Wayne Cancer Institute Auxiliary Angel Award, the Tribute to the Human Spirit Award, and Pillars of Strength Award from the Wellness Community (now the Cancer Support Community).
For more information about supporters of the California Oncology Research Institute and Dr. Anton Bilchik, visit
www.antonbilchikmd.com
.
About Dr. Anton Bilchik:
Anton J. Bilchik, MD, PhD, FACS, is an internationally recognized surgical oncologist who has pioneered techniques to improve staging in colon cancer and minimally invasive approaches for liver and pancreas cancer. He is also spearheading JWCI/SJHC's participation in biotech-sponsored research trials, new drug development and tissue procurement. He serves as an investigator on international multi-center clinical trials and, with over 200 publications, is considered one of the country's leading specialists in surgical oncology. In his current dual leadership roles as Chief of Medicine and Chief of the Gastrointestinal (GI) Research Program at JWCI, Dr. Bilchik is working closely with Saint John's Cancer Program and networking with community-based medical oncology and surgical oncology practices.