Splash and Relax add to their Best Selling Inflatable Hot Tub Range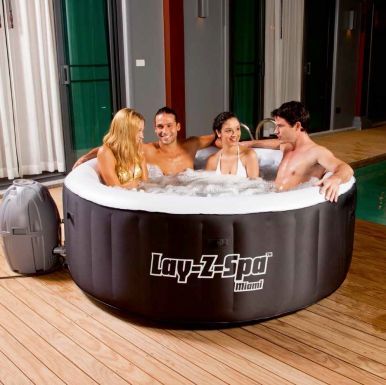 Splash and Relax are excited to introduce the new Lay Z Spa Miami Inflatable Hot Tub for indoor and outdoor use to their wide range of hot tubs available online. The hot tub is a new 2014 season model that heats up to 40C (104F) water temperatures and has been added to the Splash and Relax website this January for what is set to be another busy year of selling hot tubs.
The Lay Z Miami Inflatable Hot Tub is now part of last year's best selling Lay Z Spa range of hot tubs, joining the Lay Z Spa Vegas Inflatable Hot Tub and Lay Z Spa Monaco Rigid Portable Hot Tub. Splash and Relax saw a huge demand of Lay Z Spa hot tubs thanks to their cheap pricing, easy to set up and store build and stylish designs, selling over 80 single hot tubs from the range in 2013.
The Lay Z range was built to cater for those on a budget, looking for the very best hot tubs available in the current market. The inflatable hot tub is seen as a great choice for customers looking for use of it every now and then, catering for couples or small groups of people. Although the Lay Z hot tub can be used either internally or externally, it is an ideal choice for your garden, holiday home or campsite, being 100% portable and easy to store away. The tub is also provided with a reinforced velcro cover that aids heat retention.
Splash and Relaxes new Lay Z Miami Inflatable Hot Tub is the cheapest of the hot tubs available at just £369.00. The improved design will give customers better build quality and sleeker design, making it the outstandingly efficient and reliable portable spa on the market today. Customers will receive a hot tub with the excellent Lay-Z-Massage system, a rapid heat system and water purification system. A free DVD will be provided to every customer offering a detailed hot tub set-up and tips on maintaining your new Lay Z Miami Inflatable Hot Tub.
Splash and Relax employ free delivery on all orders over £50 so any of the Lay Z Spa inflatable hot tubs will apply for free delivery, right to your front door step. The Lay Z Spa range comes with a comprehensive warranty. The product itself is covered by a manufacturer's warranty with the liner being covered for 3 months and the electrical components having 1 year over cover.
Splash and Relax supply a wide range of products in the lead up to the summer months. A wide range of hot tubs are available including garden hot tubs from the British Spa Company and Canadian Spa company, catering up to 10 or more people. An exciting range of cheap swimming pools are also available including Intex and Bestway inflatable pools which sold out last year, as well as steel, wooden and above ground swimming pools, with a suitable choice for everyone's budget.