JD Closeouts Announces a Closeout Special on High-End Costume Jewelry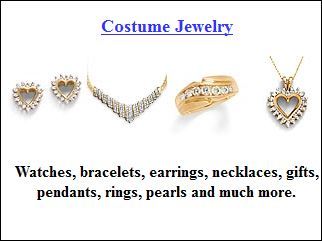 Fort Lauderdale, FL –
JD Closeouts
, one of the trusted vendors for closeout, surplus and liquidation merchandise, just received a shipment of costume jewelry from noted brands, including Anne Klein, Liz Claiborne, Mary Kate & Ashley, Disney, Joan Rivers, Hello Kitty and many others. These pieces include rings, earrings, bracelets, necklaces and other jewelry in a variety of styles, including hip-hop-inspired jewelry, fashion jewelry and seasonal holiday jewelry. Some pieces feature cubic zirconia accents.
Clients can contact JD Closeouts directly for pricing and shipping information, as well as to receive a more detailed breakdown of available products. JD Closeouts works with over 25 major department stores and catalogue companies to secure an expansive and varied selection of closeout, surplus and liquidation goods, so clients can always know that they are purchasing the best quality items available.
These costume jewelry pieces will be a popular item for discount retailers, flea market vendors, auctioneers and exporters. JD Closeouts clients frequently double or triple their investment.
JD Closeouts offers point-to-point shipping for transportation and logistics needs. Orders are typically shipped within 48 hours or less via major trucking companies and railroads within the continental US.
To inquire about the high-end costume jewelry closeouts, visit
www.jdcloseouts.com
.
About JD Closeouts
JD Closeouts is the place for pallets, lots and truckloads of quality closeouts and surplus merchandise. JD Closeout stocks hundreds of pallets with various mixtures of products in order to supply clientele and their ever-growing demand for discount and closeout goods. Over the years they have greatly expanded the variety of their product lines. Today, they deal with over 25 major department stores and catalog companies in the United States. They have dealt with these companies for years and have molded a strong and fortified relationship with them, to be able to offer their clients the best price available on closeouts, surplus merchandise, department store returns and liquidated goods.