Ganesh Machinery Announces New 5-Axis Vertical Machining Center Technology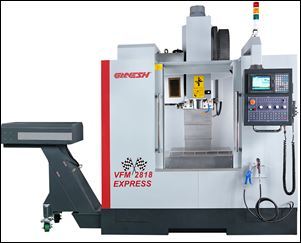 Chatsworth, CA -
Ganesh Machinery
, the popular machine tool industry specialists, has announced the arrival of their new high-speed technology for 5-axis machining. The Ganesh 5-axis VFM 2818-5X-8 and VFM-4024 5X-12 machines are designed to reduce cycle time, require fewer setups, minimize manual clean up time, and more. This comes as good news to machine shops around the nation seeking to boost their overall competitiveness with the latest, highly effective and efficient CNC milling machines available on the market.
The new 5-sided machining products have numerous features developed to improve on cycle time and surpass the industry's standard. Both the Ganesh 5-axis
VFM-2818 5X-8 and VFM-4024 5X-12 machines, with 8" & 12" platter diameters, allow for more productive milling operations, increase access to part surfaces, decrease the number of necessary tool changes and reduce set up.
Ganesh also boasts a superior surface finish that equates to less manual cleanup work. The new 5-axis technology requires less labor for hand-following machining. They provide 680-block look-ahead and 1,417 IPM in X, Y, & Z axes for superior metal removal. Standard 1,000 PSI coolant flushes out chips to eliminate redundant cutting.
Users can expect a boost in efficiency via the 5-axis machining center's ability to allow for operations on multiple sides of the part through one setting. This allows for simplified and efficient operations, including the ability to fully machine a complex part within a single set up. Fewer steps mitigate costly positioning and reposition errors, and inventory loss common with older technologies.
In addition to technological improvements, the Ganesh VFM Series 5 Axis CNC machines utilize only premium parts to fully realize the potential of its capabilities. They use Heidenhein scales with 50-nano meter resolution, high quality cross-roller linear ways, and the exclusive high-performance 12,000-RPM Ganesh Big-Plus spindle. Ganesh 5X-8 and 5X-12 comes standard with Mitsubishi M720 CNC Control.
Ganesh Machinery is proud of their new 5-Axis technology and their ability to help machine shops become more competitive by reducing wasted time, inventory loss and costly mistakes. They recommend interested parties visit their website today,
www.ganeshmachinery.com
, or call them at 1-888-542-6374 for more information on the latest Ganesh VFM Series 5-Axis CNC machines, and more.
About Ganesh Machinery:
Founded in March of 1985 with only a 1,200 sq. ft. facility, Ganesh Machinery has since grown into an industry powerhouse with a 15,000 sq. ft. facility, supported by a 40,000 sq. ft. warehouse. They are dedicated to excellent customer service with an emphasis on building and maintaining customer loyalty. They have sold and serviced machines to over 12,000 machine shops, technical schools, and more. They have a 4,000 sq. ft. showroom, fully stocked parts room, and an in-house training center.
Email Ganesh Machinery, Inc.