Greek Streak Introduces Press Collection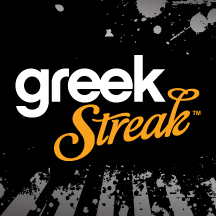 HUNT VALLEY, MD (February 26, 2014) — Customized apparel company Greek Streak, known for outfitting entire fraternities and sororities with theme and event clothing and accessories, has announced its new Press Collection line of T-shirts. Based on the popularity of their custom apparel, specialty items and accessories, Greek Streak has decided to create the Press Collection as a new line of custom shirts that are available for individual order, rather than only bulk orders. This is the first time in their history that Greek Streak will offer single shirt orders.
Greek Streak's apparel features made-to-order designs with a great range of flexibility. Greek Streak allows customers to choose from a gallery of clothing designed for specific sororities or fraternities, or create custom designs, even by providing a sketch for the designers at Greek Streak to follow. The new Press Collection of single shirts feature the same selection of customized designs, as well as the option for sororities or fraternities to add their organization's name or letters.
Further design options for Greek Streak's Press Collection line include the addition of fraternity and sorority sayings. These could be specific statements that are unique to a certain organization, a generalized statement that could apply to all fraternities or sororities, or a completely original statement. Greek Streak's customized clothing is printed on-site at the Greek Streak headquarters in Hunt Valley, Md.
As a customized apparel retailer, Greek Streak aims to provide unique apparel options for sororities and fraternities that will accurately reflect their style. Greek Streak's other offerings are available in a variety of styles for men and women, ranging from basic T-shirts and V-necks to mesh clothing and jerseys. Greek Streak also offers various accessories, such as ball caps and totes, with the same level of customization and design freedom. Apparel from Greek Streak is available in a selection of brands, including American Apparel, Anvil, Bella and Jerzees, among others.
Greek Streak also offers individual Spirit Football Jerseys, as part of wildly popular flash sale. Greek Streak's new Press Collection single shirts are available now, online at (
http://www.greekstreak.com
), or by phone (1-855-GREEKS-T).
About Greek Streak: Greek Streak (
http://www.greekstreak.com
) was founded by former leaders of the Greek community and is operated by current members of fraternities and sororities. Specializing in "cool designs for Greek organizations," Greek Streak provides customized apparel for sororities, fraternities and themed events. Greek Streak boasts a high level of customer service, quick order fulfillment and high quality designs on apparel from high-quality clothing brands. All apparel is custom designed to create a fresh new look for Greeks.