Worldwide Parcel Services offers cheap parcel delivery to Republic of Ireland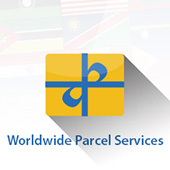 February 27, 2014 - Worldwide Parcel Services are pleased to offer cheap parcel delivery to one of its most popular destinations, Ireland. Worldwide Parcel Services deliver thousands of parcels, all different shapes and sizes a month across the water to Ireland. Customers can now send a parcel to Ireland from just £13.99.
It is no surprised that Ireland is one of the most popular destinations with a large amount of UK relatives living in Ireland. Parcels are sent on a regular basis to Galway, Dublin, Limerick, Lucan, Cork, Carlow, Kilkenny, Waterford, Sligo and Tralee just to name a small amount.
Cheap parcel sending options to Ireland from Worldwide Parcel Services start a £13.99 for 1kg, £16.99 for 5kg and 10kg, £20.00 for 20kg and up to £36.35 for parcels over 30kg. Customers wishing to send to Ireland can obtain a quote via Worldwide Parcel Services Quick Quote menu online. All customers need to do is simply enter the dimensions and weight of their parcel to realise just how cheap it is to send to Ireland.
Customers choosing this service will find it won't take long for their parcel to reach Ireland. The service should take around 1-4 days to reach its destination using courier companies such as UPS. The service ranges from 1-3 day delivery for those seeking rapid service, while they also offer a 2-4 day economy service for a lower cost and a 2-3 day service for customers seeking something in-between.
Essential guidelines for sending to Ireland are customers making sure the contents of their parcel adheres to the restricted items list which can be found on the company's website. People are advised to print and complete the necessary paperwork when sending to Ireland and checking for any custom charges that may well apply to Irish shipments.
Once customers have sent their parcel for delivery via Worldwide Parcel Services they can use the easy-to-function parcel tracking option available on the company's website. Customers need to simply enter their invoice reverence and track the parcel's location and its history will be detailed, too. Customers should note that a parcel can take up to a maximum of 24 hours after its been collected for any of the tracking history to show up with deliveries usually taking place between 8am and 6pm depending on the courier.
Worldwide Parcel Services are a service that remains committed to providing the cheapest form of parcel delivery, maintaining excellent service quality at all times. Most sizes are taken and up to a large 500kg in weight can be delivered to international destinations including USA, Australia, China, Japan, New Zealand and many more, including mainland Europe.
The company have recently been mentioned on popular ITV show 'Daybreak'. Moneysavingexpert.com owner, Martin Lewis, said "The likes of Worldwide Parcel Services are good for Europe and the States." Lewis also posted on his website that Worldwide Parcel Services were the cheapest delivery service to Europe far out destinations, like New York.
Email Worldwide Parcel Services