Eastern Dentists Insurance Company Serves All Stages of a Dental Professional's Career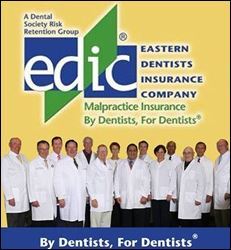 Westborough, MA - Eastern Dentist Insurance Company (EDIC), a trusted dental liability insurance provider and finance specialist, is providing dental professionals with coverage and guidance throughout every stage of their career. Services range from dental liability insurance, to financial planning, recruiting, continuing education training and much more. The company's knowledgeable professionals work with doctors individually to develop a plan that complements their career path.
"As a by-dentist-for-dentists insurance provider, we understand the unique needs doctors have throughout their career," said Charles Hapcook, DDS, President and CEO of EDIC. "We are there for our clients every step of the way. Doctors have unique needs at every point in their career, and our team has the knowledge and tools necessary to ensure our clients succeed, whether they are just starting out and looking for their first position with an established office, or they are looking at retirement options."
In addition to dental liability insurance, other financial products and services available to EDIC members are financial planning, regimented and estate planning, 401(k) developments, life insurance and annuities advice, assistance with stocks and bonds, and much more. All financial products and services are highly personalized, and clients will benefit from individualized financial plans and advice designed to meet their unique personal and business goals.
Medical professional seeking job opportunities as a dentist, dental hygienist or office manager will be able to search suitable openings on the EDIC job board, by location, category or specialty. Employers seeking dental office personnel are also able to search the pool of applicants, and can directly contact the person who might be right for the job. EDIC clients, employers and employment seekers are encouraged to utilize the job portal to connect and engage in a successful work relationship.
To learn about all of the services offered by EDIC, visit
www.edic.com
.
About Eastern Dentists Insurance Company
Founded in 1992 by the Dental Society of Massachusetts, as a "by dentists, for dentists®" company, Eastern Dentists Insurance Company (EDIC) has grown to thousands of members in Massachusetts, Rhode Island, Connecticut, New Hampshire, Vermont, Maine, New Jersey, New York and Pennsylvania. The company was expressly formed to control the rising costs of dental malpractice insurance and to allow our colleagues to control their own destinies.
Email Eastern Dentists Insurance Company