JD Closeouts Currently Offering Pallets of High-End Brand Domestic Products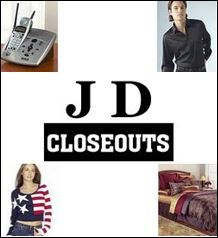 Fort Lauderdale, FL - JD Closeouts, a trusted vendor for closeout, surplus and liquidation merchandise, is now offering special pricing on pallets of recognized brands of domestic products, including bedding and linens. Nearly two truck-loads of these products have recently arrived at the JD Closeouts warehouse and now retailers can purchase these great items for as little as $895 per pallet.
The range of products includes sheets, comforters, towels, pillow cases and other soft goods from some of the most recognizable names in home design. These products are surplus liquidation merchandise from well known department stores, and they are ideal for resale. JD Closeouts works with over 25 major department stores and catalogue companies to secure an expansive and varied selection of closeout, surplus and liquidation merchandise.
When buying from JD Closeouts, clients can expect a range of brand-name items, mostly in good condition. Discount retailers, flea market vendors, auctioneers and exporters will be able to get an excellent return on their investment. Many clients of JD Closeouts are able to double or triple their investment by reselling this high-end merchandise.
To purchase a pallet of domestic goods from leading brands and retailers, visit
www.jdcloseouts.com
.
About JD Closeouts
JD Closeouts is the place for pallets, lots and truckloads of quality closeouts and surplus merchandise. JD Closeouts stocks hundreds of pallets with various mixtures of products in order to supply clientele and their ever-growing demand for discount and closeout goods. Over the years they have greatly expanded the variety of their product lines. Today, they deal with over 25 major department stores and catalog companies in the United States. They have dealt with these companies for years and have molded a strong and fortified relationship with them to be able to offer their clients the best price available on closeouts, surplus merchandise, department store returns and liquidated goods.