Ellis Hotel Publishes a Slide Show on Atlanta GA Attractions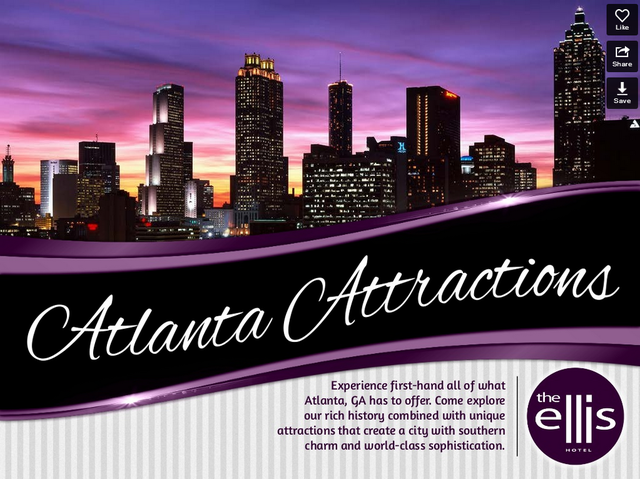 The Ellis Hotel, a boutique luxury hotel in downtown Atlanta, Georgia, has created a slide show listing major attractions close to the hotel. As the South's largest city, a city with a long history, and the site of the 1996 Olympic games, there is a lot to see and do in Atlanta. The purpose of the slide show is to give Atlanta visitors a better idea of what they can see while traveling in Atlanta.
In Atlanta there is something for everyone: families, sports enthusiasts, tourists, and business people. Families will have a full day ahead of them at the Georgia Aquarium and Centennial Park. The Georgia Aquarium features sea life from around the world and hopes to provide an educational experience to visitors. The Centennial Olympic Park is one of the largest downtown parks in the country, and it hosts events and festivals throughout the year. For people passing through, there are always events and shows within walking distance from the Ellis.
Sports fans will have a few major sights to visit. Both the Braves and the Falcons call Atlanta home, and both Turner Field and the College Football Hall of Fame are waiting to welcome guests from across the country. The Georgia Dome is another major sports center. When it opened in 1992, it was the largest cable-supported domed stadium in the world. It now hosts Falcons and Panthers matches, soccer games, basketball games, high school and college graduations, and more.
Activists and reporters have the CNN Center to look forward to. Visitors can take standard or VIP tours of CNN's world headquarters. The lobby is open to the public with a food court and the longest freestanding escalator in the world.
The Ellis Hotel is within walking distance or a short ride away from all of the attractions listed in the slide show. For personalized sightseeing recommendations, guests of the Ellis can always ask any associate.
To learn more about the attractions around downtown Atlanta, see the full slide show:
http://blog.ellishotel.com/slide-show-best-attractions-travelers-atlanta-georgia/
The Ellis Hotel is a boutique luxury hotel in the heart of downtown Atlanta, Georgia. With special services and packages for business travelers, female travelers, extended stays, couples, pet owners, and families, anyone can come to enjoy a nice dose of Southern hospitality. To find out more about how the Ellis Hotel can help improve your conference in Atlanta, contact the Ellis today:
http://ellishotel.com/
.