Fifthroom.com Overhauls Popular Website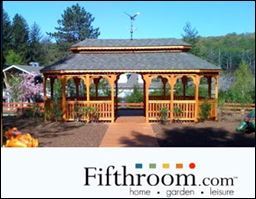 Gibsonia, PA - Fifthroom.com, major online marketplace for indoor and outdoor furniture, has announced the recent restructuring of their popular website to better serve their customer base. The revamped website has added features for special customization functions, along with an enhanced user interface to improve customer usability. This comes as good news to both residential and commercial customers seeking high quality, online custom outdoor furniture, garden furniture and patio furniture sets.
The overhaul is part of Fifthroom.com's ongoing effort to offer visitors to their website a distinct, user-friendly experience with easy access to the thousands of home, garden and leisure products available for order. The homepage's aesthetically driven layout has been reshaped to help customers while they narrow their search or freely peruse the company's large product catalogue. In addition, users can expect better access to Fifthroom.com's online specialty shops, exclusive designs, partner program and more.
The website also more prominently features their award-winning Design Wizard program, which empowers customers to easily modify their landscape structures to fit their needs and wants. The program can be used to make virtually every product customizable, creating the widest online selection of high quality gazebos, wood ramadas, pergolas and more. With just a few clicks of the mouse, customers are walked step-by-step through the entire process as they personalize the length, width, strength and style of their selection.
Fifthroom.com is proud of their website's redesign and its ability to better serve their valued customers from around the country. They welcome homeowners, contractors, landscapers, and all trade professionals to visit their website today,
http://www.fifthroom.com/
, for more information on their customizable, high-quality outdoor furniture products and services, or call them at 1-888-293-2339 to speak to a live customer service representative.
About Fifthroom.com:
Originating as a small brick-and-mortar store in the suburbs of Pittsburgh, PA in 1992, Fifthroom.com has since grown into a large online marketplace for indoor and outdoor furniture, including structures for landscapes. Through a family of 6 different online specialty shops, with one convenient check out, they carry original and exclusive designs that are drafted and crafted in-house. They offer a wide selection of high quality gazebos, cabanas, patio furniture and more, with custom or special orders and payment options available.