Eclipse Awards Wins Best Green Business at Small Business BC Awards Ceremony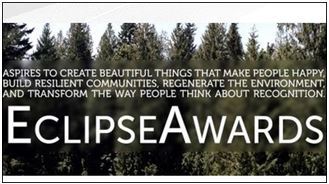 February 28, 2014 - Vancouver, BC – Eclipse Awards, a supplier of handcrafted, personalized recognition awards, plaques, and trophies, is pleased to announce that it was named Best Green Business in BC at the Small Business BC Awards ceremony on February 27th. Over the 5 month competition, Eclipse emerged from a field of 34 nominees in this category. Other Top 5 Finalists included: Aspenware Inc., Watertiger, Green Chain Recycling, and Natural Pod. Eclipse founder Toby Barazzuol stated "Winning this award is a real honour because it shows that being green is about so much more than being eco-friendly, and it also proves that a traditional business can embrace sustainability and harness it to drive innovation, creativity, culture and impact."
The Best Green Business in BC accolade is the latest honor earned by Eclipse Awards, which has been widely recognized for its longstanding commitment to eco-friendly businesses practices and celebrating the human spirit. A full-service recognition awards company, Eclipse carries out all design and manufacturing services in-house, enabling the company to consistently create beautiful recognition awards.
In addition to creating these products, Eclipse Awards is deeply involved in a variety of volunteer and community-building activities, most notably in Vancouver's Downtown Eastside. Committed to sustainability, the company has been 100% green-powered since 2004, and it became the world's first carbon-neutral awards company in 2008. In 2013, Eclipse launched the Awesome Awards (
www.theawesomeawards.org
) to recognize amazing people who are working to make the world a better place.
The annual Small Business BC Awards ceremony honors high-achieving companies based in British Columbia, and recognizes companies in eight categories, including Best Concept, Best Online Marketer, and Best Workplace.
For more information, please visit Eclipse Awards at
http://www.eclipseawards.com/
or call the company toll-free at 1-888-294-7121.
About Eclipse Awards
Eclipse Awards creates beautiful things that make people happy, build resilient communities, regenerate the environment, and transform the way people think about recognition. Founded in 1998, Eclipse Awards has established itself as a leading manufacturer of finely crafted recognition awards, trophies, and plaques. Eclipse clients includes Canada Green Building Council, General Electric, IBM, Intel, NASA, Starbucks, and the United Nations.