Kaminski Family Funeral Home Remodels, Adds Pet Crematorium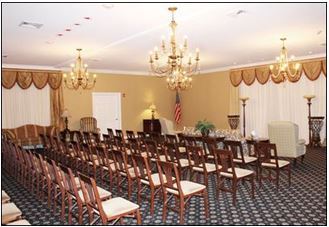 Justice, IL –
Kaminski Family Funeral Home
continues its commitment to offering personalized, dignified funeral services for families and individuals dealing with the loss of a loved one by updating its facilities. The family has also added a pet crematorium to give pet owners the opportunity to commemorate their beloved companions.
Kaminski Family Funeral Home completed its renovation in June 2013. The renovation expanded the facility's coffee room and chapels, making them more comfortable and spacious for families and more adaptable for their needs. The renovation also reinvigorated the funeral home's appearance by adding brand-new drapes, carpet and lighting to provide a more updated look.
Upon the request of Kaminski Funeral Home clients, they added a pet crematorium to its facilities. Pet owners now have a private viewing area with a home-like interior they can use to memorialize their beloved companions. The company's crematory services will provide clients with their pet's ashes within 24 to 48 hours.
Offering pet services is one way this funeral home is responding to clients' desires for more personalized, individual funeral services. Custom funeral services, including pet services, are a growing trend in the funeral industry and one they strive to accommodate with compassionate and personalized service.
Kaminski Family Funeral Home provides funeral home and crematory services to Chicago and the Greater Chicagoland area. Kaminski Family Funeral Home provides funeral arrangement and crematory services all at several locations, making it easier to provide clients with a full-service, dignified and personalized funeral services. For more information, visit
http://www.kaminskifamilyfuneralhomes.com/
or call 708-496-0200.
About Kaminski Family Funeral Home
Kaminski Family Funeral Home is a full-service funeral home and crematorium offering dignity, respect and outstanding service to all clients. Founded in 1997, they are a locally owned and operated funeral home. Their company embraces the diversity of their clients, offering services in English, Polish or Spanish, upon request.
Email Kaminski Family Funeral Home