Koolfog Supplies Misting Systems to Marriott Shadow Ridge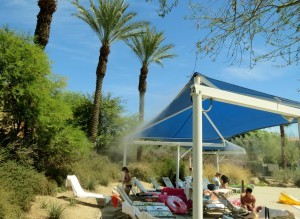 Nestled between the San Jacinto and San Gorgonio mountains you'll find a luxurious desert resort created by one of the greatest international hospitality chains. Marriott Shadow Ridge in Palm Desert and
Koolfog
, Inc joined this summer in a collaboration to enhance Marriott's pool area with re-designed and enhanced high-pressure misters.
Marriott Shadow Ridge Family Pool Scene
As the desert heat regulates the population count in the Coachella Valley, Koolfog assists commercial businesses in extending their season. "We're trying to make the heat a little more bearable." Steve Leonhard, Lead Designer for the Coachella Valley explains, "When 105+ degree weather is the norm for a good 4 months out of the year, our local businesses really suffer as it starts warming up. In fact, most out-of-town visitors feel that 90 degrees is extreme. We're trying to help their customers enjoy the luxuries of our Valley for as long as possible. "
As Marriott continues to enhance their outdoor areas,
Koolfog
works with them to identify and design new locations for
high-pressure misters
throughout the resort. As one of the most exclusive and well-hidden timeshare and resort properties in Palm Desert, Marriott knows the importance of client satisfaction.
As the winter season is upon us, the piercing heat seems like a sticky memory from the past. With each winter season, our Valley population expands. And with the rise of the summer sun, Koolfog ensures that incredible resort destinations like the Marriott is well equipped to lengthen it's busy season as long as possible.
About Koolfog
Koolfog
, Inc. specializes in outdoor environments making them more comfortable, functional and sensible using outdoor misting & humidification solutions, scenting systems, fog effects systems and outdoor heaters. For over two decades Koolfog has designed and developed sensory technologies that provide enhanced comfort and enjoyment for people, plants and animals. Koolfog heating, cooling and sensory products are in use by restaurants, resorts, wineries, retail centers, theme parks, recreational spaces, fire, military and search & rescue training, equestrian facilities, dairies, greenhouses and private estates.
Through creative design and innovation Koolfog balances performance and aesthetics by delivering products that seamlessly integrate into landscapes and architectural spaces. Koolfog products are available worldwide through direct sales and distribution.