LaserShip Slated to Appear at the Retail Industry Leaders Association Retail Supply Chain Conference in San Diego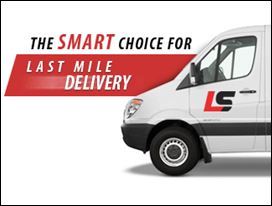 March 5, 2014 - Vienna, VA - LaserShip, the premier last mile parcel carrier to the retail industry, announced it will appear at the upcoming Retail Industry Leaders Association (RILA) Retail Supply Chain Conference in San Diego, California on February 23-26. LaserShip representatives will be on hand to discuss the many delivery advantages available to shippers looking to enhance their small parcel shipping initiatives.
Future clients will learn how LaserShip's unique line haul network strategically connects east coast markets from Boston down to Miami, offering retail shippers faster transit times and more flexibility within their supply chain so consumers can receive their shipments when they need them.
RILA's Retail Supply Chain Conference attracts over 1,200 retailers, supply chain management and logistics professionals who gather to address the biggest issues faced by retailers today.
With a focus on education and networking with service providers such as LaserShip, attendees will gain exposure to the leading practices and strategies the industry has to offer, as well as connections with industry leaders who can help boost their supply chain execution.
Show attendees are encouraged to stop by booth #826 to speak with a LaserShip representative and learn about the advantages of integrating regional parcel carriers into their carrier portfolios.
For more information, or to schedule an onsite appointment during the RILA's Retail Supply Chain conference, visit
www.lasership.com
.
About LaserShip
LaserShip makes deliveries happen faster for businesses and consumers. They have developed a unique east coast delivery network positioned to enhance the speed and flexibility of last mile delivery. LaserShip helps consumers get products more quickly, while lowering the cost of distribution for the businesses they buy from. In addition to being an ideal delivery partner for e-retailers, they feature specialized divisions that support time-critical delivery for healthcare logistics, routed delivery and Global Next Flight Delivery. They have over 600 employees who share a passion for great service, connecting you with 2500 independent couriers who achieve on-time delivery seven days a week, enabling their expanding delivery network to reach more people every day.