LaserShip Announces New Pool Distribution Shipping Services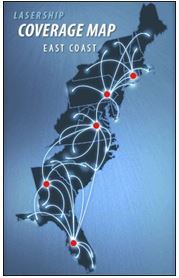 Vienna, VA - Shipping large items of 150 to 10,000 pounds directly to final destination points can be costly. LaserShip, a shipping company for businesses and consumers, offering a unique delivery network on the East Coast of the US, now offers clients a more efficient and cost-effective means of shipping through pool distribution.
This distribution method delivers orders to numerous destination points within a particular geographic region. Instead of shipping direct from origin shipper to consignee, orders are shipped on consolidated trailers direct to regional terminals. There, the pool is offloaded, segregated and sorted by consignee, then reloaded onto local delivery trucks for delivery to the ultimate destinations.
LaserShip's regional sort facilities on the East Coast receive freight in bulk; segregate and sort by consignee; and then reload onto local trucks for delivery to various pool destinations. With this shipping method, clients enjoy reduced transit times, maintain shipment integrity, and reduce and reduce claims due to less handling. LaserShip is able to pull orders by ship date rather than order date, ensuring more efficient delivery.
To learn more about the benefits of pool distribution and to request a shipment pick up, visit
www.lasership.com
.
About LaserShip
LaserShip makes deliveries happen faster for businesses and consumers. We've developed a unique east coast delivery network positioned to enhance the speed and flexibility of last mile delivery. We help consumers get products more quickly, while lowering the cost of distribution for the businesses they buy from. In addition to being an ideal delivery partner for e-retailers, we feature specialized divisions that support time-critical delivery for healthcare logistics, routed delivery and Global Next Flight Delivery. We have over 600 employees who share a passion for great service, connecting you with 2500 independent couriers who achieve on-time delivery seven days a week, enabling our expanding delivery network to reach more people every day.