Images Unlimited Publishing Announces the Upcoming Release of "Learning to Listen" by Bob Bohlken, Ph.D.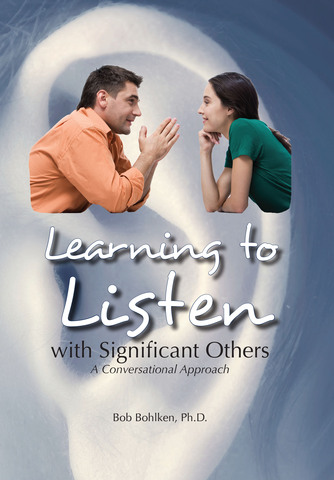 KANSAS CITY, Mo., March 5, 2014 - Images Unlimited Publishing announces the upcoming release of
Learning to Listen with Significant Others – A Conversational Approach
by Bob Bohlken, Ph.D.
Learning to Listen
(category: Relationships/Education) will be released in trade paper (ISBN: 978-0-93043-23-2, 65 pages, $14.95) on March 10, 2014.
Effective listening helps build a foundation for healthy relationships. Dr. Bohlken has taken this premise and expanded on ways to listen more effectively. By practicing critically effective listening skills, a foundation for healthy listening habits with significant other(s) can be formed.
According to Dr. Ralph Nichols, who is considered the Father of the Field of Listening, the most basic of all human needs is the need to understand and be understood. The best way to understand people is to listen to them.
Through more than 25 listening activities found in the book, participants will gain a greater understanding and appreciation of interpersonal communication. They will gain a better understanding of their own listening behavior and preferences and the listening behavior and preferences of others.
School and church counselors, marriage preparation directors, businesses and corporations, who need help in strengthening their employees listening behaviors will find this information useful. Employers want employees who will hear key points that make up their customers' concerns. They want people who can listen to directions and carry them out exactly. Poor listening habits cost employers hundreds of millions of dollars every year. Productivity is lost because of mistakes or misunderstanding. If an order is misinterpreted, the cost of poor listening is an expensive mistake.
Good listening provides a more productive work force. Through effective listening, more information is gained and fewer mistakes are made. This improves relations with people inside and outside the company.
Bob Bohlken, Ph.D., Professor Emeritus of Communication from Northwest Missouri State University, Maryville, MO has taught over 30 years in the education field. His professional areas of expertise and research are in listening, semantics, and interpersonal trust/relationships.
He lives in Maryville, MO where he continues to present communication/listening workshops and lectures to civic organizations and schools. He is an International Listening Association's Hall of Fame member. For more information, visit:
http://www.imagesunlimitedpublishing.com
[url=http://www.imagesunlimitedpublishing.com][/url]
Images Unlimited Publishing, based in Missouri, is an independent publisher of education books and childrens books.