Berger Allied Partners with ProMover to Help Clients Find the Perfect Moving Solution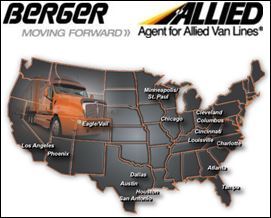 St. Paul, MN - Berger Allied, a leading moving and storage provider, has partnered with American Moving & Storage Association's (AMSA) ProMover program to help clients find reliable and professional moving solutions for all of their relocation needs. Launched in 2009, the consumer protection ProMover program certifies quality, professional movers and helps clients avoid imposters known as "rogue operators" within the industry.
The ProMover program provides clients with information and assistance with everything from finding a mover, to getting an estimate and packing tips, to understanding valuation. All ProMover partners recommended by Berger Allied moving are evaluated annually to make sure the company continues to subscribe to AMSA's program requirements of providing professional and reliable services. This distinction is a nationally recognized, industry-wide standard of conduct for professional movers.
Clients can identify ProMovers, including Berger Allied moving providers, with the programs' easily-recognizable seal which stands for a set of basic, honest business principles. Berger Allied operates 16 full-service locations in Atlanta, Charlotte, Chicago, Cleveland, Dallas, Los Angeles and Phoenix, as well as other major cities, and with the ProMover program has access to one of the largest moving networks in the world, so clients can expect to find a trustworthy, pre-approved mover almost anywhere in the country.
To find a reliable ProMover partner for any relocation need, visit
www.bergerallied.com
.
About Berger Transfer and Storage:
Since 1910, Berger has been delivering quality transportation services to individuals, corporations and government agencies. As Allied's largest agent, Berger is a full-service moving company that specializes in the transportation and storage of household goods, office and industrial equipment, special products and product distribution. Berger movers provide local, long distance and international moving services for residential customers, businesses and government agencies.
Email Berger Transfer & Storage, Inc.