Tax Deduction Deadline for Car Donations Is December 31st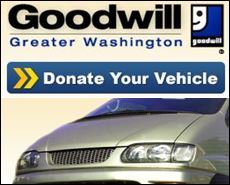 Washington, DC - Do you want to help out this holiday season, and benefit from it, all at once? Well, if you're looking for an IRS-Approved 501(c)(3) charity to donate your vehicle to, then look no further! Goodwill is a federally approved organization which makes your car donation tax deductible. Goodwill will provide you with all the documentation you need to file your tax deduction. They will also provide you with a receipt at the time of your pick up, so it can serve as proof of your auto donation. After the car is sold at a public auto auction, they will mail you a letter which will contain information on the automobile's final selling price, to let you know the vehicle has been sold.
The tax deduction deadline is December 31st, so bring in your unwanted vehicles, today, and make a difference in someone's life. The process is very simple and rewarding. Goodwill offers you a fast and easy alternative to trading-in or selling your car, truck or RV. You then receive a tax receipt after the sale, which allows you to deduct the final selling price of the automobile on your tax return. This usually equals more than what you get for a trade-in or direct sale.
At Goodwill of Greater Washington, they take pride in helping society grow by contributing with their education programs and donations. You will also be helping out, in the long run, because the proceeds of your gifts go to free job training and education programs that are offered. Giving people a chance to jumpstart their lives to a better future will benefit everyone. If you're planning on getting rid of your vehicle, give Goodwill a call.
About Us: Goodwill Industries is a large non-profit organization based in the United States and Canada. Visit
GoodwillCarDonation.org
, or call toll-free 1-866-233-8586, and help us build a better tomorrow, today!
Email Goodwill Car Donations