Cardinal Property Management Managers Receive Top Awards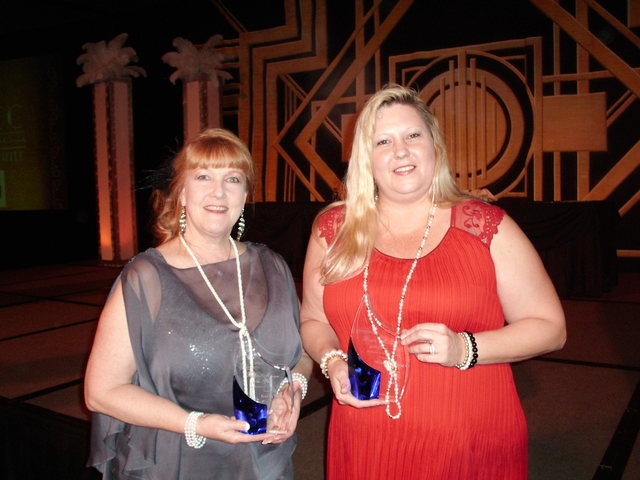 Cardinal Property Management's Maryanne Hurley-Cicconi and Karen Holthe received Portfolio Manager of the Year awards for outstanding service from the Community Associations Institute, Orange County Chapter. On February 7, during the annual awards dinner at Disney's Grand Californian Hotel, Karen and Maryanne were lauded as Portfolio Manager of the Year, Rookie, and Portfolio Manager of the Year, Veteran, respectively.
Maryanne has been with Cardinal for 5 years. In support of CAI, she served as the Co-Chair of the Programs Committee 2013, and was responsible for coordinating the monthly educational luncheons. Through Maryanne's leadership, the luncheons were highly effective and provided sound educational value to the Chapter. In fact, due in part to Maryanne and her Committee's efforts, the Orange County Chapter's educational luncheons were often sold-out, received rave reviews, and were among the largest luncheon educational events in the state. As Co-Chair, Maryanne worked tirelessly and enthusiastically to ensure that the coordinators for every luncheon met their deadlines, provided Powerpoint presentations and outlines on time, and even filled in for coordinators on several occasions. Her dedication to the Programs Committee exemplifies the quality of service recognized by the Portfolio Manager of the Year Award.
As a portfolio manager, Maryanne efficiently manages a portfolio of seven accounts that includes a wide variety of communities. Maryanne works with the boards of planned unit developments, waterfront properties with boat docks, an age 55+ community, and condominiums. During 2013 she also successfully transitioned a new account to the company into her portfolio. In addition, Maryanne assisted her portfolio communities with a wide variety of enhancement projects including a new vehicle gate access system, a roofing project, and a recall election.
During 2013, Karen Holthe dedicated herself to the Education Committee. She audited every Community Leadership Training Program (CLTP) so she could serve as an instructor for each class, when needed. She was indeed needed, and Karen co-instructed the Finance class twice.
In her quest for excellence for the Education Committee, Karen suggested the Committee quantitatively determine the effectiveness of each class to expand the reach of the classes and educate more board members and managers. Her goal was to increase the attendance of board members and managers to exceed rather than merely meet the minimum number of attendees. Karen then gauged the attendance against her goal and monitored the progress of every Committee meeting. Following these meetings, she extended her goal even further. During this process to bolster attendance and extend the reach of the Education Committee, Karen relentlessly advertised the CLTP courses to association clients. Karen also parlayed her Education Committee experience to assist Cardinal Property Management, AAMC/ACMF, prepare for and run its Board Education classes.
Karen manages a portfolio of seven accounts that include PUDs, equestrian communities, and condominiums. She is also the Director of Property Management at Cardinal Property Management, AAMC/ACMF. She provides manager oversight, mentoring, training, and marketing.
In her property management role, she assisted one of her communities during a major "facelift" to the entrance of the association. This project encompassed hardscape, landscape, lighting, asphalt replacement, and signage.
She also managed a tree replacement program that exchanged dying eucalyptus trees with other viable trees and plants. She assisted with slurry projects in multiple communities, and she astutely managed a 30-year old property during a lighting project for all its monuments. Karen also managed a community project to replace all the irrigation controllers with Smart controllers.
Cardinal also received Runner Up as Corporate Sponsor of the year, a remarkable feat because the winner is a company whose footprint stretches throughout Southern California and Southern Nevada.
Email Cardinal Property Management