3D Secure Implementation Deadline - Helpful Information for SA Online Stores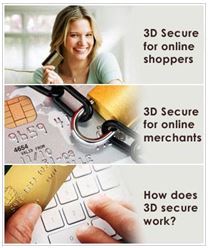 March 8, 2014 - Cape Town, South Africa – With online fraud being top of the agenda for the Payment Association of South Africa (PASA), the body has taken the decision to make it compulsory for all South African e-commerce merchants to be enrolled in the 3D Secure program by the 28th of February 2014.
With regards to mobile transactions, PASA has extended the deadline by 6 months for e-commerce transactions that are concluded on a mobi site or native application, due to the broad and varied nature of the mobile environment. As one of South Africa's leading providers in secure ecommerce payment solutions, PayU is supporting the banks and PASA to ensure that the transition to 3D Secure for their online merchants is as smooth as possible.
What is 3D Secure?
3D Secure, a technical standard created by Visa and MasterCard, provides an extra step during the online payment process to verify the shopper's identity. This was introduced to help reduce online fraud risk, and safeguard credit card transactions.
The Benefit of 3D Secure for Merchants
Merchants enrolled for 3D Secure will have their chargeback risk reduced by shifting the responsibility of the transaction chargeback risk to the issuing bank of the cardholder. A chargeback is the charge a credit card merchant pays to a customer after the customer successfully disputes an item on his or her credit card statement.
The Benefit of 3D Secure for Online Shoppers
Through Verified by Visa and MasterCard SecureCode, credit cards can be protected against unauthorised use when shopping online. The 3D Secure program further aims to build consumer confidence and trust by offering a more secure online purchasing experience and thereby growing the number of online ecommerce consumers. Once customers enroll online and activate 3D Secure, their card number cannot be used for online purchases without entering a unique one-time pin or password. Certain banks automatically enroll their customers in the 3D Secure program, while other banks have asked their customers to manually sign up for the program.
The Impact of PASA's Decision on E-commerce Merchants
All merchants with their own acquiring facilities (online merchant account) should have received the relevant notifications and communication from their bank well before the PASA imposed deadline was announced.
From PayU's perspective, the company provides their merchants with all the relevant technical assistance required to successfully implement and process 3D Secure transactions. In instances where the merchant processes transactions using PayU's secure payment pages, 3D Secure is simply switched on by PayU, without requiring any additional work from the merchant.
Steps Taken by PASA to Ensure Efficient 3D Secure Implementation
In order to meet the deadline for 3D Secure, PASA is:
Encouraging issuing banks and merchants to educate cardholders and increase awareness of 3D Secure and related fraud
Explaining to banks and merchants how to handle cards that are not eligible for, or capable of performing 3D Secure transactions
Ensuring that banks are aware of the process they have to follow to enable their cardholders to transact using 3D Secure
Explaining the shift in liability to banks and merchants
Releasing technical specifications and standards
With these guidelines in place, PASA is confident that merchants and issuers will be prepared and ready for the 3D Secure deadline.
3D Secure Queries
For any queries relating to 3D Secure, please contact your account manager at your acquiring bank or your online payment processor.
About
PayU is an online and mobile payments service provider
. PayU Payment Solutions (Pty) Ltd ("PayU MEA") enables and empowers businesses and individuals in the Middle East and Africa to safely transact and easily participate in ecommerce.
It is owned by Naspers and the company's products include a digital wallet for consumers and a PCI DSS level 1 certified payment gateway for businesses. PayU's vision is to be the most trusted payment gateway in the region for both merchants and consumers. For more information, visit
www.payu.co.za
.
Contact Information
Media Relations Department
PayU
086 111 7298
Contact Us