South African Airways enters into a new code share agreement with Virgin Australia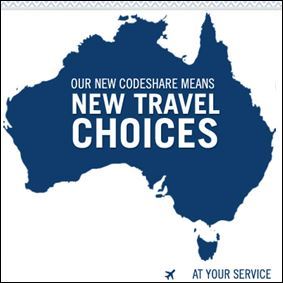 Johannesburg, South Africa – South African Airways (SAA), Africa's leading airline, today announced a new code share agreement with Virgin Australia, one of Australia's largest domestic airlines.
SAA flies daily between Johannesburg and Perth and this new partnership offers SAA customers expanded access across Australia to domestic destinations such as Melbourne, Brisbane, and Adelaide.
The code share is open for sale from tomorrow, 7 February, and for travel from 11 February.
"Through the code share agreement with Virgin Australia, our valued customers will gain new travel choices to primary markets across Australia via Virgins' extensive network and hubs in Perth and Melbourne, providing seamless travel, and earning of miles through the Voyager frequent flyer programme," says Kendy Phohleli, SAA General Manager Commercial (Acting).
"In addition customers travelling to Africa from Australia using Virgin Australia services will have access to the most comprehensive network on the African continent."
Virgin Australia has been an interline partner of SA Airways since July 2010 where the two airlines had a commercial agreement to handle those customers travelling on both airlines. SAA is now expanding this relationship into a code share agreement.
"This new partnership forms part of Gaining Altitude, our Long-Term Turnaround Strategy, which seeks to broaden SAA's network through alliances and strategic partnerships.
"Implementing a code share agreement with Virgin Australia offers our customers travelling on SAA to Perth, Australia, more travel options to other Australian cities. We are looking forward to strengthening our partnership with Virgin Australia through this new code share agreement," says Phohleli.
Customers will also have the benefit of through checking their baggage and receiving boarding passes from Johannesburg to their end destination in Australia, and onto any destination in Africa served by SAA when flying from Australia. Voyager members will continue to earn their miles for their entire itinerary.
Flight tickets for the new code share air fares can be purchased online at
www.flysaa.com
, through travel agents, the airlines' sales offices, or South African Airways' call centre at +27 11 978 5313.
About South African Airways
South African Airways (SAA) is a Star Alliance member which offers more than 21,900 daily flights to 1,328 airports in 195 countries.
The airlines core business is the provision of passenger airline and cargo transport services together with related services, which are provided through SAA and its four wholly owned subsidiaries: SAA Technical; Mango its low cost carrier; Air Chefs, the catering entity of SAA and South African Travel Centre (SATC).
The airline operates to 42 destinations worldwide with
its domestic market operating 660 flights in total per week
between Johannesburg – Cape Town, Durban, East London and Port Elizabeth, from its Johannesburg hub, as well as code-shared flights between Lanseria – Cape Town and Durban. Regionally, SAA offers 26 destinations across the African continent. Its international network creates links to all major continents from South Africa through 11 direct routes and code shares, with daily international flights from the city of Johannesburg.
Email South African Airways