South African Airways Launches Airbus A330-200 on London – Johannesburg Route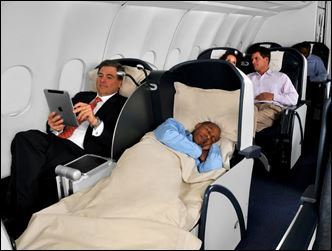 London, England – From 28th March, South African Airways, Africa's most awarded airline, will be operating a newer aircraft, the Airbus A330-200 on scheduled flights between London Heathrow and Johannesburg.
The newer aircraft replaces the current A340-600 used on the route and will operate on SA235, the first of SAA's two daily departures at 19.00 and selected* SA237 flights, which departs at 21:00. These changes build on SAA's growing reputation as winner of "Best African Airline" at the Business Traveller Awards on 14th October 2013 and on SAA's continued focus on service excellence which is a strategic objective of Gaining Altitude, SAA's Long-Term Turnaround Strategy.
Gary Kershaw GM South African Airways says, "We've listened to feedback from our corporate customers and Voyager members around the aspects of their journey that are important to them. We're delighted to announce these changes to our summer schedule to strengthen our growing reputation for quality."
SA Airways business customers can now enjoy smaller, more personal cabins and forward facing seats in a 2-2-2 configuration, as well as a 74" seat pitch, 180° flat beds and on demand 12" widescreen technology. Business travellers can also relax and enjoy departure and arrivals lounges at both London Heathrow and Johannesburg, including the unique SAA arrivals lounge at Johannesburg OR Tambo - the perfect place to escape the demands of travel and freshen-up before the business day ahead.
The newer A330-200 aircraft will offer economy passengers even larger 10 inch widescreen technology, as well as one of the most spacious cabins in Southern Africa, with SAA's 2-4-2 seat configuration.
SAA will operate the first direct flight of the day from Heathrow to Johannesburg. Over the years they have built an outstanding reputation for punctuality and have even won the Flight Stats Award for the Most on Time Airline in the World twice during 2013.
For more information about SAA, visit
www.flysaa.com
or call 0844 375 9680/ @SAA_UK /
www.facebook.com/SouthAfricanAirwaysUnitedKingdom
Please note: In the event of unforeseen operational challenges SAA may operate another type of Airbus wide-body aircraft on the route.
About South African Airways
South African Airways (SAA)
is a Star Alliance member which offers more than 21,900 daily flights to 1,328 airports in 195 countries.
The airlines core business is the provision of passenger airline and cargo transport services together with related services, which are provided through SAA and its four wholly owned subsidiaries: SAA Technical; Mango its low cost carrier; Air Chefs, the catering entity of SAA and South African Travel Centre (SATC).
The airline operates to 42 destinations worldwide with
its domestic market operating 660 flights in total per week
between Johannesburg – Cape Town, Durban, East London and Port Elizabeth, from its Johannesburg hub, as well as code-shared flights between Lanseria – Cape Town and Durban. Regionally, SAA offers 26 destinations across the African continent. Its international network creates links to all major continents from South Africa through 11 direct routes and code shares, with daily international flights from the city of Johannesburg.
Email South African Airways