Star Helicopters Offers Training Courses for Pilot Licensure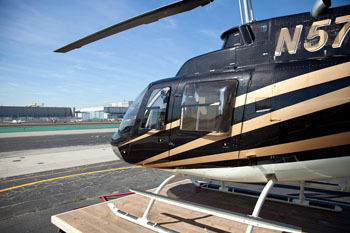 As the provider of helicopter training courses,
Star Helicopter offers aspiring pilots the opportunity to learn
from trained professionals and to obtain the experience needed to acquire a helicopter pilot's license.
Star Helicopters of Los Angeles offers several programs and options for aspiring helicopter pilots. With certified flight instructors and hands-on flight training, students will learn everything they need to become professional or commercial pilots.
Training is conducted using the Robinson R-22 or R-44, depending on the individual student's need and previous flight experience. One-on-one training allows students to get the most out of their flight training experience. With no money required upfront, students are only expected to provide their own headsets, flight recording supplies, and any required instructional manuals.
An introductory flight is offered, along with 30 minutes of ground school, so potential students can get a feel for the aircraft and see if this type of training is right for them. This flight consists of 30 minutes in the air, during which students can take the controls and see how it feels to pilot a helicopter. The introductory flight is ideal for people who aren't sure if they are ready to pursue a helicopter pilot license. Students can choose the aircraft of their choice for this initial flight, though subsequent lessons are performed using specific helicopters.
With a range of programs serving pilots of all backgrounds and experience, students can benefit from financial aid, housing accommodations and transportation. Star Helicopters also offers training for any veteran's training allotment under the government's GI Bill. Rates for training, ground instructors, flight instructors and insurance are listed on the company's website.
Star Helicopters offers training that incorporates all of the components from the FAA's Practical Test Standards, so all students will be ready to take the helicopter pilot's test as administered by an FAA examiner. With personalized training and the utilization of FAA-approved training materials, students looking to get their commercial or professional helicopter license will be ready to pass all exams required for obtaining a license. Star Helicopters can be reached on the web at
www.star-helicopters.com
or by phone at (310) 355-1959.
About Star Helicopters
Located in Los Angeles, CA, Star Helicopters offers aerial tours of the Los Angeles area, as well as private flights and flight training. Using the latest in helicopter technology, Star Helicopters delivers the ultimate experience for those who want to travel by air or learn to pilot a helicopter themselves.