Always Best Care® Expands with 9th Senior Care Franchise in North Carolina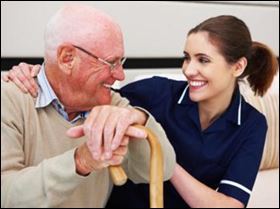 Roseville, CA - Always Best Care® Senior Services, one of the leading Senior Care franchise systems in the United States, today announced the company has awarded its 9th franchise in North Carolina and as a result now provides services throughout the state with offices in Charlotte (2), Raleigh (2), Wake Forest, Chapel Hill, Burlington, Greensboro and Asheville.
Always Best Care is one of the nation's leading providers of non-medical in-home care, assisted living placement services and skilled home health care. The company delivers its services through an international network of more than 200 independently owned and operated franchise territories and area representatives throughout the United States.
The new Always Best Care franchise is owned and operated by Scott Kramer of Charlotte, a healthcare veteran 15 years' experience ranging from hospital administration to healthcare consulting and pharmaceutical sales. Mr. Kramer was introduced to Always Best Care by Todd and Elizabeth Palmer, personal friends and existing Always Best Care business owners in Chapel Hill, NC.
"I am very excited about awarding our newest franchise to someone with such extensive experience in the healthcare industry as Scott Kramer," said Michael Newman, founder and Chief Executive Officer of Roseville, CA-based Always Best Care. "I'm confident he will become a successful member of the Always Best Care team."
Mr. Kramer had personal experiences that led him to business ownership with Always Best Care. "I have watched and experienced the aging process through witnessing my mother struggle with osteoporosis and degenerative back disease," he explained. "As she aged I began looking into services that could help her and the companies that offer them. Through this search I found Always Best Care, and I feel they offer the most in terms of meeting the needs of our aging loved ones."
Always Best Care provides critical services that fulfill the needs of elders as they transition through various stages of their lives. "My compassion and integrity," Kramer added, "along with my knowledge of the local healthcare landscape and demographics will give me a better understanding of the needs of the Southeast Charlotte market."
"My vision," he concluded, "is to make Always Best Care the #1 non-medical in-home care name in the area by providing our customers with the highest quality services and care providers in the industry."
Always Best Care of Southeast Charlotte is located at 3440 Toringdon Way, Suite 205, Charlotte, NC 28277, and may be reached by calling (803) 493-3985 or visit them at
alwaysbestcaresoutheastcharlotte.com
.
For information on Always Best Care franchise opportunities, call toll-free 1-855-430-CARE (2273) or visit
www.franchisewithalwaysbestcare.com
.