Walker Lambe Launches Two New Websites Focused on Litigation and Elder Law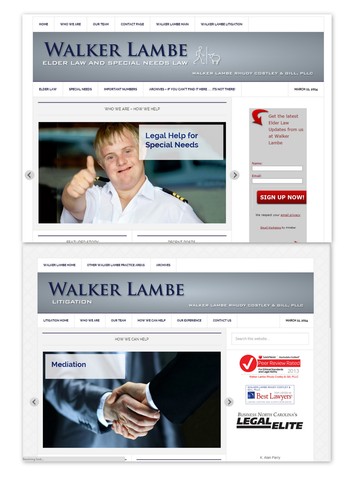 March 12, 2014- Durham, North Carolina- Walker Lambe Rhudy Costley & Gill, PLLC, is delighted to announce the launch of two new websites focusing on growing practice areas within the firm, Litigation and Elder Law. The new sites,
www.walkerlambelitigation.com
and
www.walkerlambeelderlaw.com
, launched in early March.
The goal is for professionals and the general public to find information faster and with ease. If you worry about how mom and dad are going to pay for long-term care and wonder about available resources to assist with this, you can find answers to those questions on the Elder Law site. Consumers and professionals will also be able to easily sign up for the "Elder Law Update" newsletter where they are able to stay informed on any changes in the law and hear about new issues and solutions when it comes to protecting family assets.
The new Litigation website will allow visitors to stay up-to-date on recent rulings and news associated with our litigation team. If you are looking for representation relating to a dispute for yourself, a business or for a client, this will be an efficient way get applicable information.
Walker Lambe has provided legal counsel for individuals and businesses in the Research Triangle Area of North Carolina for over 30 years. Its primary practice areas are Estate Planning, Elder Law, Estate Administration, Business Succession Planning, General Business, Commercial Real Estate, and Litigation.
For additional information, please contact Hannah Jernigan at (919) 493-8411.