Solon Dental Practice Recently Added New Digital Panoramic X-Ray Machine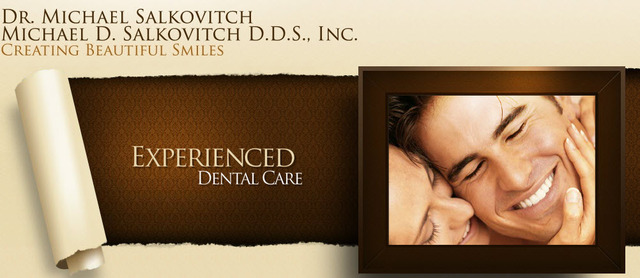 Solon, OH – With a new digital panoramic X-ray machine, comprehensive exams, and in some cases diagnostic models, Solon dentist, Dr. Michael Salkovitch, can create a precise treatment plan for many dental conditions.
Michael D. Salkovitch, DDS
, recently invested in a digital panoramic X-ray machine for his Solon, Ohio dental practice. Unlike traditional film x-rays, digital images take mere seconds to process. According to Dr. Salkovitch, "The machine provides us with digital, panoramic and bite-wing images of a patient's mouth instantly. From there, we can immediately begin diagnosis as well as share our findings with patients on a chair-side computer monitor. In some cases it can help me with patient education just as much as treatment planning."
In addition to providing instant digital x-rays, the new digital panoramic X-ray system eliminates the need to place anything in a patient's mouth during the x-ray process. "Patients love it," Dr. Salkovitch said. "Digital X-rays are often more comfortable for the patient and uses less radiation than traditional dental X-rays."
In addition to all of the benefits for patients, the digital technology makes treatment planning easier for Dr. Salkovitch. "The views of crucial mouth structures are much clearer, allowing me to better diagnose the patient's condition as well as create a tailored treatment plan," Dr. Salkovitch said. "Improvements in treatment planning can save patients money or discomfort down the road as a result."
With a panoramic digital image, dentists can get a better picture of the entire mouth. This includes both the upper and lower jawbones, temporomandibular joints, the mandibular nerve, and teeth. The technology provides a big-picture view of conditions in the mouth and sometimes aids in finding problem areas sooner than taking a single X-ray of a single area of the mouth.
Dr. Salkovitch explained that panoramic digital imaging is also helpful for patients with special needs, restless children, and fearful adults and people with sensitive gag reflex. The equipment is easy to set up and use, which helps to alleviate fear. Auto-focusing and other features ensure a crisp image so patients can get the best treatment possible.
About Dr. Salkovitch
Dr. Salkovitch is a family dentist serving patients in Solon, Ohio and the Solon, Ohio area. His Solon dental practice offers a full menu of general,
family
, and
cosmetic dentistry
services including: preventive care and professional cleanings, dental exams, oral cancer screenings, composite fillings, dental implant restorations, porcelain crowns, porcelain veneers, porcelain fixed bridges, teeth whitening, dentures and partial dentures, restorations, and more.
Dr. Salkovitch and his entire Solon dental office staff are committed to delivering top-notch dental care for the entire family. With a recent investment in dental technology including panoramic dental imaging equipment, this Solon dentist has both the experience and technology to deliver exceptional dental care.
Dr. Salkovitch's dental office is located on SOM Center Road in Solon, Ohio, near Solon Road.
For more information on getting a high-quality dental treatment plan aided by advanced digital X-ray equipment, visit Dr. Salkovitch's website at drsalk.com
Email Michael D. Salkovitch, DDS