Nano Concepts Helps Companies Meet Recently Updated Occupational Safety and Health Administration Standards for Slip and Fall Protection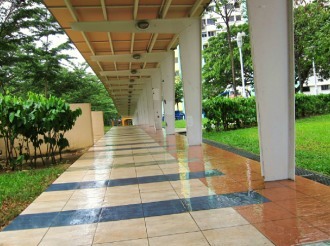 The Occupational Safety and Health Administration (OSHA) has announced a June release date for new regulations regarding walking surfaces and personal fall protection. The ruling changes the terminology from slip-resistant to "high-traction" surfaces, a definition that is measurable by special instruments, and now makes it possible for floor surfaces to be held to a specific standard. According to OSHA, failure to comply with these new standards may result in fines.
Nano-Grip from Nano Concepts
helps organizations meet this elevated requirement for slip-resistant floors, and reduces the risk and danger of slips and falls and the resulting potential for injury, lawsuits, litigation costs, and employee days lost. Nano-Grip can be used on almost all hard surfaces, such as ceramic tile, glazed brick, marble, polished stone, terrazzo, river rock, concrete, quarry tile, porcelain, and enamel bathtubs and showers.
Nano-Grip is not a coating that can wear off, but a chemical process that creates a tread design on the mineral surface itself, without losing the look or feel of the flooring. Nano-Grip will not discolor or change the look of the floor, tile, tub or shower, and is applied by trained applicators in a very short period of time, with no disruption to business. The treatment is guaranteed for two years on most commercial floors, and for the lifetime of a bathtub or shower.
According to the National Safety Council there are over nine million disabling slip and fall injuries occur every year. Fast food outlets, nursing homes, restaurants, office buildings, banks, hospitals, malls, spas, pool decks, garages, country clubs and public buildings are among the major facilities that must comply with the new OSHA ruling, and which will benefit from a Nano-Grip application.
For more information on Nano-Grip and other work safety products from Nano Concepts, visit
www.nanoconcepts.net
.
About Nano Concepts:
Nano-Concepts utilizes the latest science, materials, research and techniques to protect the public from threats posed by unsafe surfaces. With over 20 years experience providing anti-slip and anti-microbial protection solutions, Nano-Concepts specializes in creating a safe environment at work and at home.