Meaningful Use Monitor Releases Audit-Prevention Product for Eligible Professionals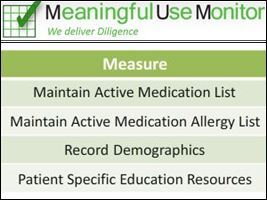 Rochester, WI –
Meaningful Use Monitor
(MUM) announces the release of its newest product, Mock Audit, a program that helps eligible professionals and hospitals avoid possible recoupment of meaningful use incentive payments and associated penalties through the Centers for Medicare & Medicaid (CMS). MUM has developed several products and services to aid hospitals and eligible providers in tracking their meaningful use compliance, and Mock Audit is the company's latest addition.
The Mock Audit program features a secure documentation portal that calculates a provider's degree of readiness for an audit. It is ideal for eligible professionals and hospitals planning to attest for meaningful use as well as for those who have already been notified of an audit or those planning to appeal an unfavorable audit result. As part of the Mock Audit program MUM also provides expert advice over the phone and has a team of experts equipped to quickly locate the answers to questions in the thousands of Federal Register pages related to meaningful use.
Meaningful Use Monitor has helped more than 100 hospitals and physicians meet meaningful use standards and prepare for attestation. In addition to Mock Audit, the company has developed a database that fully integrates with providers' electronic health records software and tracks meaningful use compliance at every turn. The database calculates stimulus payments and provides measure-by-measure guidance on reporting as well as post-audit support, among many other features.
Meaningful Use Monitor urges eligible professionals and hospitals attesting for either Stage 1 or Stage 2 meaningful use to perform a Mock Audit, in order to ensure compliance with core and menu set objectives, and to avoid an audit and possible recoupment of CMS incentive payments. For more information about Meaningful Use Monitor, visit
http://www.meaningfulusemonitor.com/
or contact the company by phone at 414-640-2817.
About Meaningful Use Monitor
Meaningful Use Monitor is committed to helping ambulatory and inpatient healthcare providers comply with meaningful use objectives and receive their incentive payments through CMS. Our expert team has developed a sophisticated program with EHR linking capabilities that carefully monitors and tracks meaningful use progress. With innovative solutions like audit detection and mock audits prior to attestation, Meaningful Use Monitor has become part of the larger effort to help healthcare providers improve patient care and outcomes.
Email Meaningful Use Monitor