Capital Region Special Surgery, Division of Neurosurgery, Welcomes Dr. Nicholas Qandah to Help Deal with Epidemic of Degenerative Spine Disease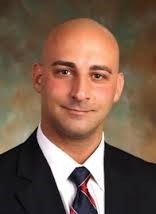 The incidence of degenerative spine disease in the United States has been estimated at 8 to 11 percent of the population. As the "baby boomers" age, an estimated 2.4 million Americans will be affected by spinal stenosis by 2021. With the first wave of baby boomers just qualifying for Medicare, this condition will undoubtedly have an impact on government healthcare spending. The adjusted rate of lumbar stenosis surgery per 100,000 Medicare beneficiaries was 137.4 in 2002 and 135.5 in 2007; these numbers are expected to double in the coming years due to the increased numbers of older adults. Clearly, society will need more specialists who deal with spine problems, and Capital Region Special Surgery (CRSS) is planning for this epidemic.
Nicholas Qandah, DO, is a Board-Certified Neurosurgeon. Dr. Qandah was formerly the Director of the Neurosurgery Complex Spine Program at Carilion Clinic in Roanoke, Virginia. He also Served as Assistant Professor of Neurosurgery at Virginia Tech Carilion and as Assistant Director of the Neurosurgical residency program.
After completing his general neurosurgical training, Dr. Qandah completed a fellowship in complex and minimally invasive spine surgery at the prestigious Harborview Medical Center in Seattle, WA. In addition to general neurosurgery, Dr. Qandah treats patients with back and neck pain, degenerative disc disease, spinal stenosis, and herniated discs. He has special interest and expertise in minimally invasive spine surgery, complex spine surgery, and surgery for scoliosis.
Dr. Qandah is currently accepting new patients at our office located at 1220 New Scotland Road, Slingerlands. To schedule an appointment call 518-439-4326.
Capital Region Special Surgery (CRSS) is a distinctive medical practice that specializes in all aspects of the head neck and spine disease. Our unique healthcare team includes neurosurgeons, otolaryngologists, McKenzie certified physical therapists as well as neurologists and pain management specialists. CRSS also provides onsite and often times same day diagnostic studies that include EMGs, MRIs, CAT Scan and X-ray.
CRSS provides new patient appointments within 48 hours of a phone call and prides itself on it proven clinical outcomes and patient satisfaction.
"Dr. Qandah is a great addition to our team of advanced spine specialists," said Josh Powell CEO. "His training and academic experience is a perfect fit for Capital Region Special Surgery."
- See more at:
http://www.capitalregionspecialsurgery.com/neurosurgery/news/capital-region-neurosurgery-welcomes-nicholas-qandah-do/#sthash.UpRlGhuh.dpuf
Email Capital Region Special Surgery