Max Alavi, Attorney at Law, Receives "Excellent" Rating by AVVO in the Areas of Estate Planning and Probate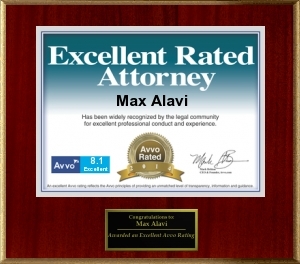 Newport Beach, California, March 18, 2014 – Max Alavi, APC is pleased to announce that Max Alavi has received an "Excellent" rating for 2014 in the areas of estate planning and probate by AVVO, the nation's largest online legal directory and rating system. AVVO, founded on 2007, provides the public with the tools and information needed to make smarter and confident legal decisions by providing access to expert legal advice and a free comprehensive lawyer database to assist in finding top-rated lawyers near the online user's location. AVVO contains the profiles of more than 95% of practicing lawyers in the United States with each lawyer's profile containing an objective rating based on client and peer reviews, as well as practice area and cost information.
Mr. Alavi commented on the distinction: "I am honored to receive this rating from AVVO, one the nation's most prestigious legal directory and rating systems. This rating is specially gratifying because it is based on reviews and recommendations from clients and colleagues. I strive to provide my clien's with the best legal services possible and this "Excellent" rating is a testament to that"
Mr. Alavi, attorney at law and partner at Max Alavi, APC, has been practicing law for over 22 years. He focuses his practice on assisting clients establish effective and secure vehicles for passing their assets to their loved ones. In addition to his "Excellent" rating by AVVO in estate planning and probate, he is an AARP/ALLSTATE Legal Plan attorney. His practice also includes assisting trustees manage and settle trust assets and navigating probate related issues. He can be contacted at 949.706.1919 or at
info@alavibroyles.com
. He publishes a regular blog on estate planning issues at
www.alavibroyles.com
.
Contact Information
max alavi
Max Alavi
949.706.1919
Contact Us