Wattco Provides Flanged Immersion Heaters for Keystone Pipeline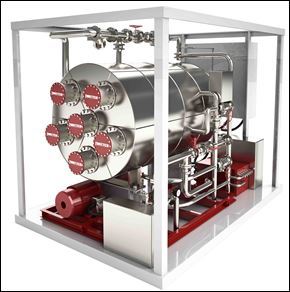 Wattco's flanged immersion heaters
provide a versatile solution for tank-heating needs to facilitate oil transfer. These electric heaters are currently seeing use in the Keystone XL Pipeline, which will run from Alberta to Houston, TX.
Various industries use flanged heaters to warm water, oil and other chemicals in tanks. The heating device is immersed in the tank, while the control device is housed away from the tank. Flanged heaters get their name from the design of the device, which consists of a hairpin bent tubular element that is welded to a flange with a wiring box allowing electrical connection. Wattco manufactures several models of flanged immersion heaters, differing in size, voltage, kilowatt range, sheath material and terminal housings. The versatility of this design makes these electric heaters useful for many applications.
In the oil industry, immersion heaters are used to lower the viscosity of oil, allowing it to travel faster. These heaters must keep oil temperature stable while also operating within certain hydraulic and thermal limitations. Wattco's flanged heaters work well for this application because they provide excellent temperature accuracy, produce few emissions and are able to cope with high temperatures.
The Keystone XL Pipeline provides an essential service for the oil industry, and Wattco is proud to manufacture electric heaters to provide safe and reliable heating for this project. Wattco is a well-established name in the electric heating industry, providing quality products for decades. For additional information about Wattco, check out the organization's website at
http://www.wattco.com
. The company can be reached by phone at 1-800-4-WATTCO.
About Wattco
Wattco manufactures a variety of heating products for various industries, including oil and gas, food, chemicals, defense and plastics, among others. In business since 1969, their company produces superior products that meet CSA and UL requirements as well their own stringent goals for quality. Wattco produces electric heaters for the Keystone XL Pipeline.