Anton Bilchik, MD Works to Raise $1.5 Million for California Oncology Research Institute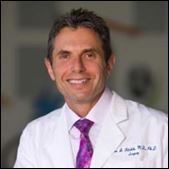 Santa Monica, CA - The California Oncology Research Institute (CORI), lead by renowned surgical oncologist, Dr. Anton Bilchik, is working to raise a record $1.5 million to help fund cancer research and treatment programs. Everyone is encouraged to donate what they can to help the medical group reach this milestone and move the medical community closer to eradicating this terrible disease.
"According to the Cancer Society of America, over two million people are newly diagnosed with cancer each year," said Dr. Anton Bilchik. "This means that nearly every American knows someone who has been affected by cancer. A donation to our Oncology Research Institute, no matter how small, will help us improve the lives of those living with cancer and ultimately save lives."
Since its inception by Dr. Anton Bilchik and his colleagues, CORI has been committed to providing early diagnosis and treatment of cancer, and innovative clinical and basic science research focusing on surgical technologies and the molecular biology of the tumors. Through scientific collaborations and alliances, CORI has established itself not only as a regional cancer institute in Southern California, but also as a global leader in cancer research with a strong presence across four continents.
The ongoing, prestigious grants presented to CORI by National Cancer Institute and the National Institutes of Health help to create novel cancer therapies, which ultimately will lead to improve techniques for surgical oncologists. However, additional funding is always needed, and Dr. Anton Bilchik and his CORI team rely on the support of the community to reach their research goals.
To donate to CORI, visit
www.antonbilchikmd.com
.
About Anton Bilchik, MD
Anton Bilchik, MD, PhD, FACS, is assistant director of surgical oncology and director of gastrointestinal research at the John Wayne Cancer Institute in Santa Monica, California. He received his medical degree from the University of Witwatersrand in Johannesburg, South Africa and earned a doctoral degree in gastrointestinal physiology from Yale University. Bilchik is the recipient of many awards from such prestigious organizations as the American Cancer Society and the American College of Surgeons. He is the author of more than 75 peer-reviewed journal studies and is the co-investigator in two major National Institutes of Health-sponsored grants.