Perio Institute Announces Upcoming Courses for April and May 2014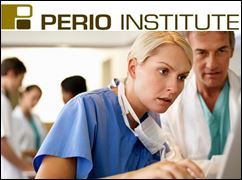 Snoqualmie, WA - The
Perio Institute
, a leading hands-on dental continuing education provider, today announced a selection of courses for the coming April and May months. Held throughout the U.S., these classes focus on important skills dental professionals can perfect including soft tissue grafting, bone grafting, crown lengthening and other special procedures.
The first Perio Surgery for the Modern Dentist hands-on dental education course will be offered in Toronto, Ontario April 18th & 19th and will increase your understanding of periodontal disease and treatment options. These surgical skills can also be readily applied to regenerative periodontal surgery as well as to oral and implant surgery. This course is also offered on May 16th & 17th in Philadelphia.
Dental professionals in the Chicago area can benefit from a two-day course focusing on various levels of bone grafting. Held on April 25, the Level I course will provide instruction on differences in bone grafting materials, traumatic tooth extractions, socket grafting techniques, sutures and suturing techniques as well as other necessary skills. The Level II Guided Bone and Guided Tissue Regeneration workshop will begin by reviewing the basic information presented in the Level I seminar that included bone graft materials, membranes and the necessary instrumentation needed for socket grafting and ridge preservation.
All dental education courses offered by Perio Institute feature hands-on components and allow dentists to develop important skills that will help them offer their patients more comprehensive treatment options and overall better results with periodontal procedures.
To view the calendar of upcoming courses and to register for dental continued education, visit
www.perio.com
.
About Perio Institute:
Perio Institute specializes in continuing education, hands-on workshops and lectures for general dentists and hygienists. Courses start with the basics and progress to the advanced and allow dental professionals to go back to their offices on Monday morning and begin implementing the procedures learned. The Perio Institute has been giving continuing education workshops for over twenty years. Continuing education is our main focus today, just as it was when we began years ago. We strongly believe that the general dentist should be well informed with the most current information to give their patients the best care available.