Electrical Counter is Top Online Provider of Stylish Showers from Galaxy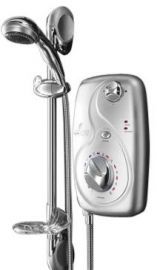 Electrical Counter provides a wide and comprehensive range of water heating and cooling, with their widest range of products coming from Galaxy Showers. Electrical Counter have been providing Galaxy Showers for some considerable time now, helping customers receive state-of-the art technology with excellent value for money, the need for practicality and pure simplicity of operation making their showers simple for all generations to use and maintain. The ranges that are available from Electrical Counter are designed to help customers choose the perfect shower for customers and their family to set into.
Available online are 13 categories for customers choose from within Galaxy Showers. Available for customers to choose from are two main designs in Aqua and Scalemaster, with 10 ranges of Aqua Galaxy Showers available and 3 ranges of Scalemaster showers for customers to choose from.
At the cheaper end of the price scale for customers, comes the Aqua 1000 range, built to compliment any bathroom with its good looks. The Aqua 1000 range chooses not to use hot water; instead they take only cold water from the main supply. Once turned on, the water is passed over a heating element to deliver a shower at the customers preferred flow rate and temperature, enabling you to not have to store a hot water supply as it works independently from your hot water system.
Further ahead in terms of price is the Aqua 4000 range, available in either a white or chrome finish for customers. This range comes with a stop button for phased shutdown and comes fully temperature stabilised for absolute comfort, with low pressure neon indicator and dual function push buttons for start and power selection. A great range with numbered temperature control dial for easy selection, customers can choose from two outputs either at 8.5kW or 9.5kW.
Electric showers have come a long way since they were originally in the 1970s and although many have argued that they have always been ahead of their time, clear advances in technology has allowed Galaxy shower products to be adapted in a variety of installation scenarios whilst always maintaining the benefit of the installer and customers at heart, engaging a quick and simple installation, always.
Galaxy Showers are just one of various water heating and cooling options available from Electrical Counter. Customers looking for electric showers can also find a comprehensive range of modern and futurist showers from Redring Showers. In this range of showers, four categories of electric showers are available for customers to buy.