Eventegg Announces Strategic Partnership with Otelz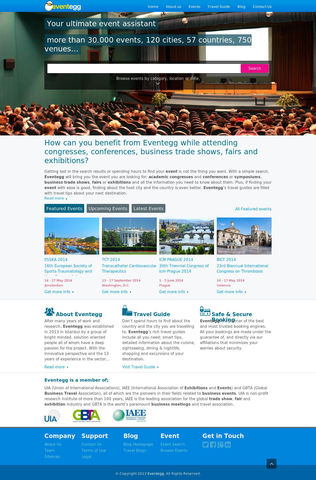 March 26, 2014 -
Eventegg
, a website with a rich database that lists any kind of international business or academic events announces its strategic partnership with
Otelz
, a newly launched local booking engine in Turkey.
Eventegg, launched in December, 2013 had declared its aim to bridge the gap in the sector and make things easier for the business or academic event attendees in finding events online, booking accommodations and planning their trips at one place. The company now announces their strategic collaboration with Otelz, a local booking engine that was launched last year. The two company now aim to gear up their research and development by cooperating strategically in database technologies, software architecture and infrastructure development.
"Otelz has been calling our attention recently for its heavily increasing visitor numbers and its rich hotel database. We regarded the benefits that it offers to its users as big advantages and wanted to work together as the two up and coming Turkish brands in this sector. We really believe that the path-breaking spirit of Otelz will contribute at a high level to Eventegg." says the CEO of Eventegg Alpaslan Kilicaslan.
About Otelz
Having been launched in 2013,
Otelz
has more than 2300 accommodation options from luxury hotels to budget hostels in its database and promises its customers a booking opportunity without pre-payment. In addition, thanks to its advanced searching, the users can search for an accommodation near more than 9000 landmarks. In addition, last minute promotions and deals are among the other benefits that Otelz offers to its users.
About Eventegg
Eventegg
is a website that has an incessantly updated rich database of international business and academic events like conferences, congresses, symposiums, workshops, fair and exhibitions. Users have the chance to search for the events by the year, country, city or their field of interest. In addition, Eventegg offers the best accommodation options around the venue via the most trusted booking engines online as well as the detailed travel guides that will help event attendees to get the most of their trips.