Renaissance St. Louis Airport Hotel Upgrades Exterior with LED Video Display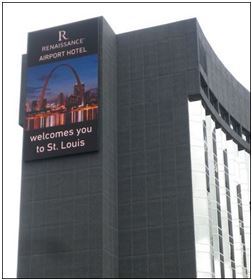 March 24, 2014 - ST. LOUIS –– The Renaissance St. Louis Airport Hotel by Marriott recently upgraded its exterior with a large LED video display manufactured by S|N|A. The hotel had the display installed on its west wall, facing eastbound traffic on Interstate Highway 70. The display is in direct line of site of all traffic leaving the airport towards St. Louis. The Marriott property also recently added an updated contemporary lobby, inspired by the industrial history of the St. Louis region.
The Renaissance LED video screen features an S|N|A outdoor S|Video™ 20 mm pixel pitch product. The LED display is oriented vertically to fit the hotel's exterior wall and is approximately 47'3" tall by 25'2" wide. The screen has a total resolution of 720 pixels tall by 384 pixels wide.
"This wall-mounted LED screen features large subframes with alignment pins for ease of installation," said Mitch Leathers, marketing manager for S|N|A. "The alignment pins allow subframe sections to be easily lowered into place."
For photos of the Renaissance digital signage project, please visit
www.snallc.com/projects/renaissance-hotel
. For more information about S|N|A or S|Video™ LED display products, visit
www.snallc.com
.
S|N|A, LLC is a turn-key provider of LED digital displays and lighting solutions. S|N|A has managed, fabricated, implemented and installed some of the U.S.'s largest spectacular signs while offering its clients a single source for both indoor and outdoor lighting, text, graphic, and video products. S|N|A relies on more than 300 engineers dedicated to research and development and utilizes one million square feet of space for manufacturing, administrative support and customer service. Sansi has offices throughout North America, including its corporate headquarters in Ballston Lake, NY, satellite offices in New York City, Dallas, Austin, Columbus and Knoxville, as well as administration and manufacturing space in Oklahoma City and Shanghai. For more information about S|N|A call 800.521.4815. You can also follow S|N|A on Facebook, Twitter, LinkedIn and Google+.