EpiCentre in Charlotte Receives Final LED Display Addition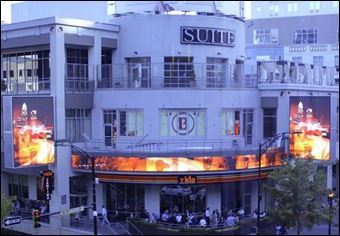 March 24, 2014 - CHARLOTTE, NC –– The EpiCentre in Charlotte received the final addition to the LED display system manufactured and installed by S|N|A. The EpiCentre is a large mixed-use retail center in the heart of downtown Charlotte. The majority of the LED signage is at the corner of East Trade Street and South College Street. There is also a 16 mm double-faced LED display at the corner of South College Street and East 4th Street. Advertising for all seven LED displays is controlled from a central software system.
The entire project includes more than 1,400 square feet of LED displays with close to 1.25 million pixels.
The 10 mm pitch LED ticker lies in between several large LED blade signs that were installed earlier in 2012. The LED ticker is a high-resolution, continuously curved display with a large radius of 42'10". The dimensions of the ticker are 3'6" high by 68'6" wide with a resolution of 108 x 2,088 pixels.
There are two 10 mm pitch LED blade signs that flank the ticker on either side. Both LED blade displays are double-sided. The signs are 18'2" tall by 13'0" wide on each display. The resolution of each is 540 x 384 pixels. The front-facing LED blade signs are integrated into a single video feed with the LED ticker to create seamless integration of content across all three faces.
On the corner of College and 4th streets, two 16 mm pitch S|Video™ LED video displays wrap the corner just outside of Jason's Deli. These two displays are installed along with a static face to comprise a three-sided sign. Each face is 20'2" tall by 11'9" wide, and the two LED faces have a resolution of 384 x 224 pixels.
"The EpiCentre LED video displays in Charlotte are a showcase of the various LED technology that S|N|A manufactures. From an outdoor LED billboard perspective, integrating all of the displays to one software and control system is critical for tracking content duration on the displays, critical for effective advertising sales."
The 10 mm S|Video™ LED displays in the project employ surface-mount device (SMD) technology, where the LEDs in each pixel are packaged together, allowing for crisp, clear imagery and a widened viewing experience.
For photos of the EpiCentre LED digital signage project, please visit
www.snallc.com/projects/epicentre
. You can find more information about S|N|A and S|Video™ products at
www.snallc.com
.
S|N|A, LLC is a turn-key provider of LED digital displays and lighting solutions. S|N|A has managed, fabricated, implemented and installed some of the U.S.'s largest spectacular signs while offering its clients a single source for both indoor and outdoor lighting, text, graphic, and video products. S|N|A relies on more than 300 engineers dedicated to research and development and utilizes one million square feet of space for manufacturing, administrative support and customer service. Sansi has offices throughout North America, including its corporate headquarters in Ballston Lake, NY, satellite offices in New York City, Dallas, Austin, Columbus and Knoxville, as well as administration and manufacturing space in Oklahoma City and Shanghai. For more information about S|N|A, visit
www.snallc.com
or call 800.521.4815. You can also follow S|N|A on Facebook, Twitter, LinkedIn and Google+.