DoubleTree Pittsburgh Downtown Publishes an Infographic on Pittsburgh Features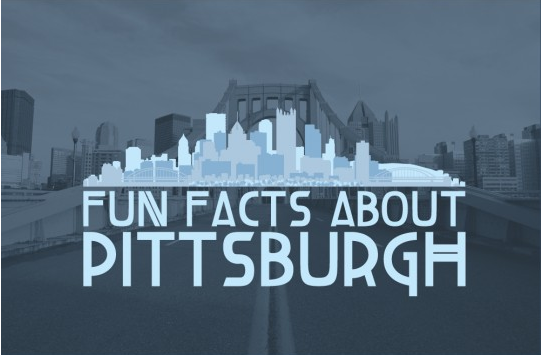 Although many people around the country are familiar with Pittsburgh's reputation as one of the country's largest steel-producers, fewer realize how many innovations have come out of the city or how scenic it is. To give Pittsburgh hotel guests the chance to get to know the spirit of Pittsburgh a bit better, the DoubleTree by Hilton Pittsburgh Downtown has created an infographic detailing some of the city's most interesting achievements.
As locals well know, Pittsburgh is a picturesque city with its broad rivers, hilly terrain, hundreds of bridges, and the dense woodland that hems it in. Consequently, movie producers that want a New York-like cityscape without the problems that go along with blocking off streets in that kind of metropolis often choose Pittsburgh as a prime filming location. The infographic points out a number of recent films and cult classics that were shot on Pittsburgh's iconic streets. Visitors can even retrace the steps of their favorite stars as they walk through the streets of Pittsburgh.
Pittsburgh was the scene of many firsts for America. The city was the home of the world's first movie theater, The Nickelodeon. It was later the home of public television when WQED became the first community-sponsored educational TV station in America. (It also broadcasted Mister Rogers' Neighborhood.) The first pull-tab cans were developed in Pittsburgh by Alcoa. Pittsburgh even had the nation's first gas station in 1913.
The Steel City was the birthplace of a few famous foods, like the Klondike Bar, the Big Mac, the Clark Bar, and Heinz Ketchup. While these creations have since gone international, there are other regional dishes that enjoy great regional acclaim, including the Primanti Brothers' sandwich (fries included inside the sandwich). The area is noted for its Eastern European favorites (pierogies, kielbasa, and halusky), brought in with the waves of immigrants who worked in the steel mills. A burgeoning number of brew pubs and fine dining establishments also makes Pittsburgh cuisine an unexpected delight for city visitors. Guests staying in downtown Pittsburgh hotel rooms will have a lot to see and experience in the heart of the city.
To learn more about Pittsburgh's fascinating history, see the full infographic:
http://www.doubletreepittdowntown.com/infographic-fun-facts-pittsburgh/
DoubleTree Pittsburgh Downtown
is a luxury hotel in the heart of Pittsburgh's Cultural District and the central business district. Within walking distance of the Consol Energy Center and across the Allegheny River from Heinz Field and PNC Park, the hotel grants guests easy access to some of Pittsburgh's most exciting sports centers. Contact DoubleTree by Hilton Pittsburgh Downtown to hear more about events around the city:
http://www.doubletreepittdowntown.com/
.
Email DoubleTree by Hilton Pittsburgh Downtown