HAPO Community Credit Union Stuns Tri-City Area with Unique Transparent LED Video Display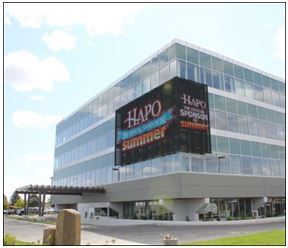 KENNEWICK, WA –- The HAPO Community Credit Union recently purchased a new building in the tri-city area. Wanting a unique look for its flagship building, HAPO employed Momentum (Seattle) to design a visual message center for the building's exterior. Because the new facility had glass windows on all sides, Momentum researched transparent media display options, and S|N|A was selected to manufacture and supply its LED technology.
S|N|A manufactured and installed S|ThruMedia™, its LED product line that produces high-resolution video and imagery while also maintaining subtle transparency.
Utilizing a horizontal 16 mm pitch strip spaced vertically at 48 mm, the display wraps around the corner of the building. A custom-engineered corner module was manufactured to keep the seam at a minimum. The display is 19'10" tall by 36'1" wide on the long side and 19'10" tall by 10'1" wide on the short side. The overall physical resolution of the entire display is 127 x 888 pixels while the virtual resolution is 379 x 888 pixels. The S|N|A video processors account for the space between strips and instead of stretching the content, the imaginary pixels are processed. There are over 1,000 individual strips across the entire sign.
S|N|A employed CREO Industrial Arts to manufacture the overall structural frame and install the displays based on previous work experience. Both S|N|A and CREO are members of the Society for Experiential Graphic Design (SEGD).
It was critical for HAPO to use LED transparent media because of the glass behind the sign. Most of the space in the building behind the display is used as a training area. As a result of the transparency of the display, it appears as if those looking out of the windows are looking through open blinds.
One of the huge benefits of the S|ThruMedia™ product line is that the power supplies and logic boards can be remote at a great distance behind the display and inside a climate-controlled room. This allows for the display to be much thinner and lighter weight and will prolong the life of the display by keeping critical components in a controlled environment.
Photos of HAPO's LED transparent display project can be viewed at
www.snallc.com/projects/hapo
. You can find more information about S|N|A and S|ThruMedia™ products at
www.snallc.com
.
S|N|A, LLC is a turn-key provider of LED digital displays and lighting solutions. S|N|A has managed, fabricated, implemented and installed some of the U.S.'s largest spectacular signs while offering its clients a single source for both indoor and outdoor lighting, text, graphic, and video products. S|N|A relies on more than 300 engineers dedicated to research and development and utilizes one million square feet of space for manufacturing, administrative support and customer service. Sansi has offices throughout North America, including its corporate headquarters in Ballston Lake, NY, satellite offices in New York City, Dallas, Austin, Columbus and Knoxville, as well as administration and manufacturing space in Oklahoma City and Shanghai. For more information about S|N|A call 800.521.4815. You can also follow S|N|A on Facebook, Twitter, LinkedIn and Google+.